Wondering how to qualify for gastric sleeve in Australia in 2023? How to qualify for gastric sleeve Australia surgery will come down to whether or not you are clinically obese and are a candidate for surgical intervention. This 2023 guide will outline everything you need to know about qualifying for the operation in Australia.
In Australia, an estimated 2 in 3 adults are overweight or obese. That's around 12.5 million adults that fall into the category of obese. Many of them experience sleep apnoea or another associated obesity illness. If you're someone who has suffered from obesity or morbid obesity for a number of years, gastric sleeve surgery is something you've likely considered.
While pondering how to qualify for gastric sleeve Australia procedures, the first thing to remember is that sleeve gastrectomy is objectively intended for those who suffer from morbid obesity or are living with multiple co-morbid lifestyle diseases. Gastric sleeve surgery is not a quick-fix procedure, and the decision to undergo the operation should be taken very seriously.
How to Qualify for Gastric Sleeve Australia
Most obesity clinics will operate off an internationally agreed patient criteria for weight loss surgery eligibility. If Medicare is to cover the costs of a gastric sleeve for weight loss surgery, the patient also needs to meet widely accepted criteria. How to qualify for gastric sleeve Australia involves making sure you are the right candidate for the gastric sleeve procedure. Eligibility and qualifying for obesity intervention are not to be taken lightly – gastric sleeve surgery is an invasive operation and requires careful thought, planning and commitment to a healthy, balanced lifestyle.
Why Do You Have to Qualify for Gastric Sleeve Surgery?
Weight loss surgery is not necessarily the right option for everyone. Gastric sleeve surgery is not designed for those who merely want to lose some weight or tone up their tummy. The reason that patients have to meet a criterion to be eligible for gastric sleeve surgery is that the procedure is designed to help those who are at high risk of developing life-threatening health problems and have exhausted alternative weight loss options.
Gastric sleeve surgery is an invasive tool that works to help those suffering from extreme and excessive weight retention. The weight loss that can come from gastric sleeve surgery can be dramatic, and the actual effectiveness of a gastric sleeve depends largely on the aftermath of the procedure. Therefore, it takes a certain type of candidate for gastric sleeve obesity surgery to be successful long-term: one that suffers from severe obesity and is committed to making life-long changes to support this long-term weight loss solution.
Am I A Candidate for Gastric Sleeve Surgery?
So, who is a candidate for gastric sleeve surgery?
If you are morbidly obese and have a body mass index of more than 40, you are likely a candidate for gastric sleeve surgery. If your BMI is 35 or over, are at high risk of developing life-threatening health conditions and have genuinely exhausted other weight loss options to no avail, then you may also be a candidate for gastric sleeve surgery. How to be eligible for gastric sleeve surgery really comes down to your weight, your lifestyle and your behaviours.
At Central Coast Surgery, we take our weight loss surgery criteria very seriously. Each prospective patient is comprehensively evaluated to determine their suitability for surgery and whether they understand the risks and commitment associated with gastric sleeve surgery. Backed by a team of dieticians, clinical psychologists, bariatric surgeons and physicians, the Central Coast Surgery team strive to ensure that gastric sleeve patients are entirely suited to the gastric sleeve procedure before going ahead.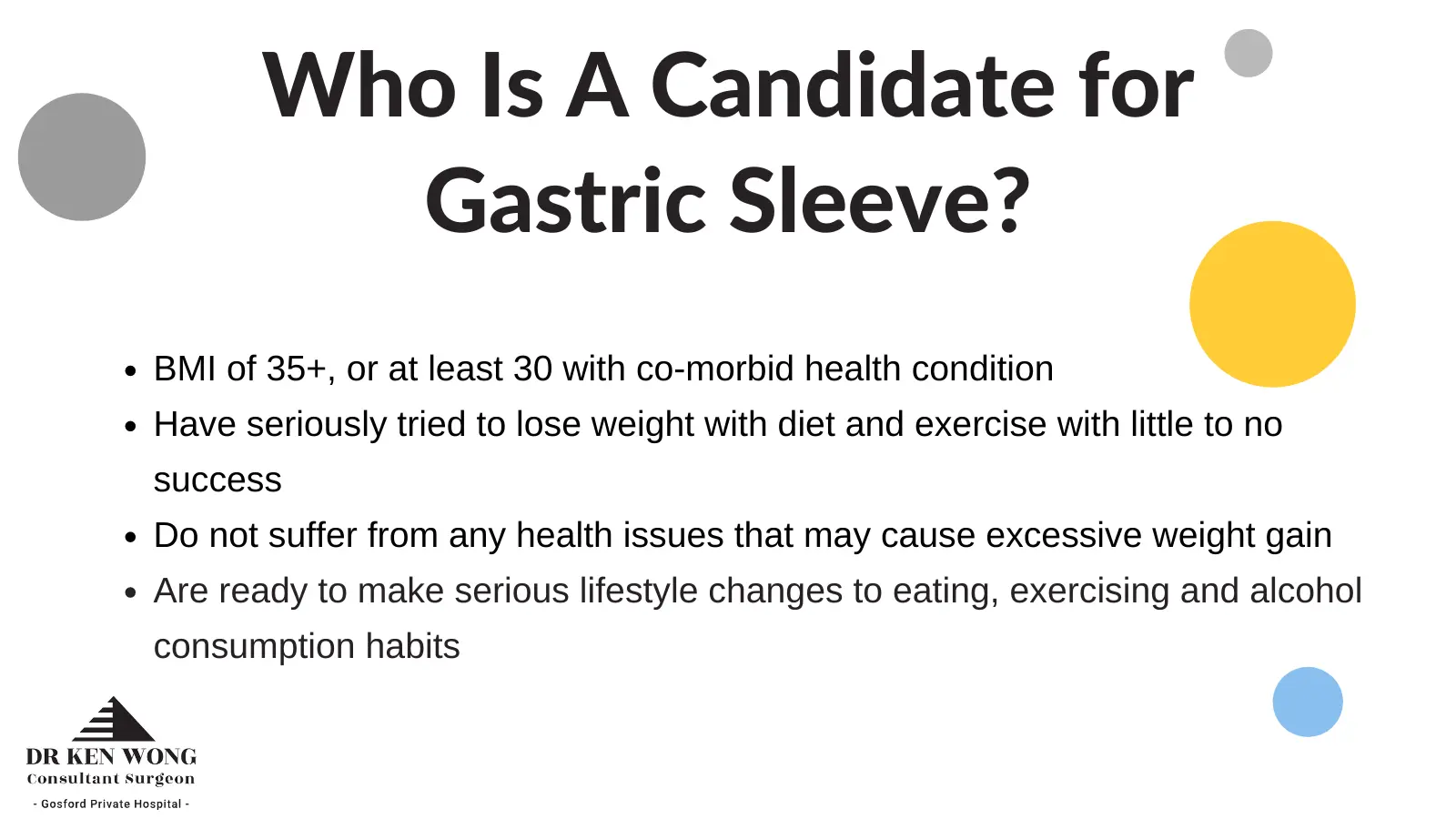 Candidates must:
Have an appropriate BMI for gastric sleeve surgery

Have seriously tried to lose weight with diet, exercise and other weight loss techniques with little to no success

Do not suffer from any health issues that may cause excessive weight gain

Are ready to make serious lifestyle changes to eating, exercising and alcohol consumption habits
Who's Classified as Obese?
A major determining factor for how to be eligible for gastric sleeve surgery is the classification of obesity. If you are classed as obese, you may be eligible and meet the weight loss surgery criteria. However, it's the patients who are classed as severely and morbidly obese (BMI of 40+) that are likely to require the services of sleeve gastrectomy.
Overweight and obesity refer to excess body weight. The World Health Organisation (WHO) defines obesity as an abnormal or excessive fat accumulation that presents a risk to health. Obesity itself is a lifestyle condition and is a risk factor for many other obesity related diseases and chronic conditions, including diabetes, cardiovascular disease, high blood pressure, sleep apnoea, some cancers, and psychological issues. Resulting from a combination of causes and individual risk factors like behaviour and genetics, obesity is a serious lifestyle condition that is associated with the leading causes of death in Australia.
While bariatric surgery has been performed for some time, gastric sleeve surgery has only become popular in recent years in Australia. As Australians continue to face obesity related illnesses, such as sleep apnoea, joint problems, or diabetes, more people are turning to gastric sleeve surgery and weight loss procedures for a new lease on life with an ideal body weight.
What Does BMI Mean?
Body Mass Index, or BMI, is an internationally recognised standard for categorising obesity in adults. While BMI cannot reflect body fat distribution or prove the degree of obesity in varying individuals, at a population level, BMI is a useful measurement to rely on when measuring overweight adults and obesity levels.
A person's BMI can be calculated by dividing the individual's weight in kilograms by the square of their height in metres. A BMI measurement of 25.0-29.9 is classified as overweight; a BMI measurement of 30.0 or over can classify someone as obese. A BMI measurement of more than 35 classifies severe obesity.
If you'd like to calculate your BMI and see how it compares to other Australian adults, you can use a BMI calculator such as this one from the Australian Institute of Health and Welfare. When it comes to children, height and body composition are continuously changing, and therefore, BMI is not necessarily applicable to determine obesity.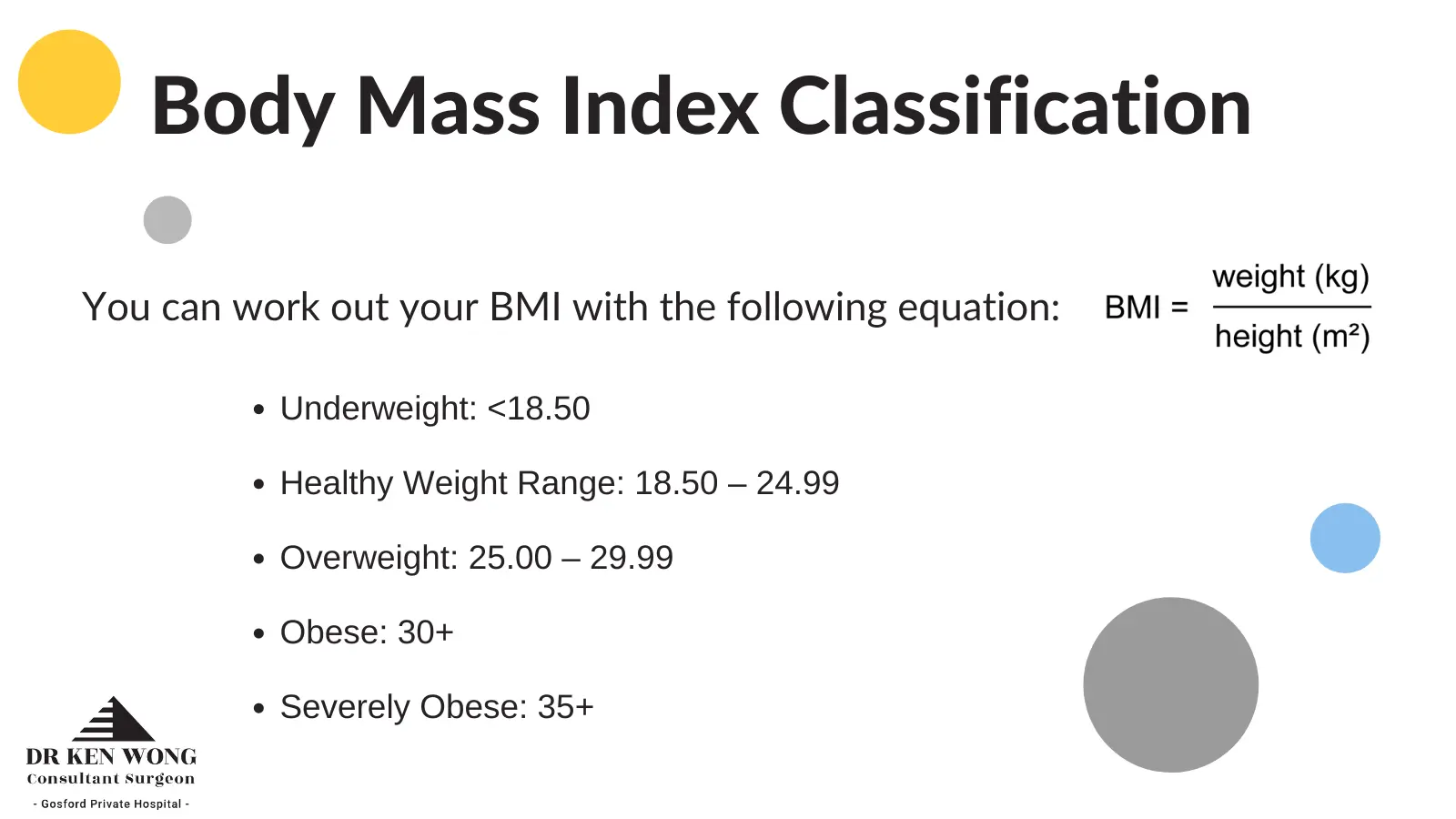 The classification for BMI is as such:
Underweight: <18.50
Healthy Weight Range: 18.50 – 24.99
Overweight: 25.00 – 29.99
Obese: 30+
Severely Obese: 35+
Importance of Criteria for Weight Loss Surgery
It's important that gastric sleeve patients meet these set criteria to maintain a standard of comprehensive screening. If you suffer from obesity, gastric sleeve surgery is a huge step towards a healthier, more balanced lifestyle. However, not everyone is a good candidate for bariatric surgery. Patients are required to meet Australian criteria for weight loss surgery, based on universal standards established by the National Institutes of Health and the judgement of your individual weight loss surgeon.
You may not be a good candidate for gastric sleeve if you:
Do not meet the BMI and co-morbidity criteria

Are medically fragile and will not be able to safely undergo the surgery

Have psychiatric issues including eating disorders that have not been managed

Are not committed to making lifelong diet and exercise changes

Refuse to quit smoking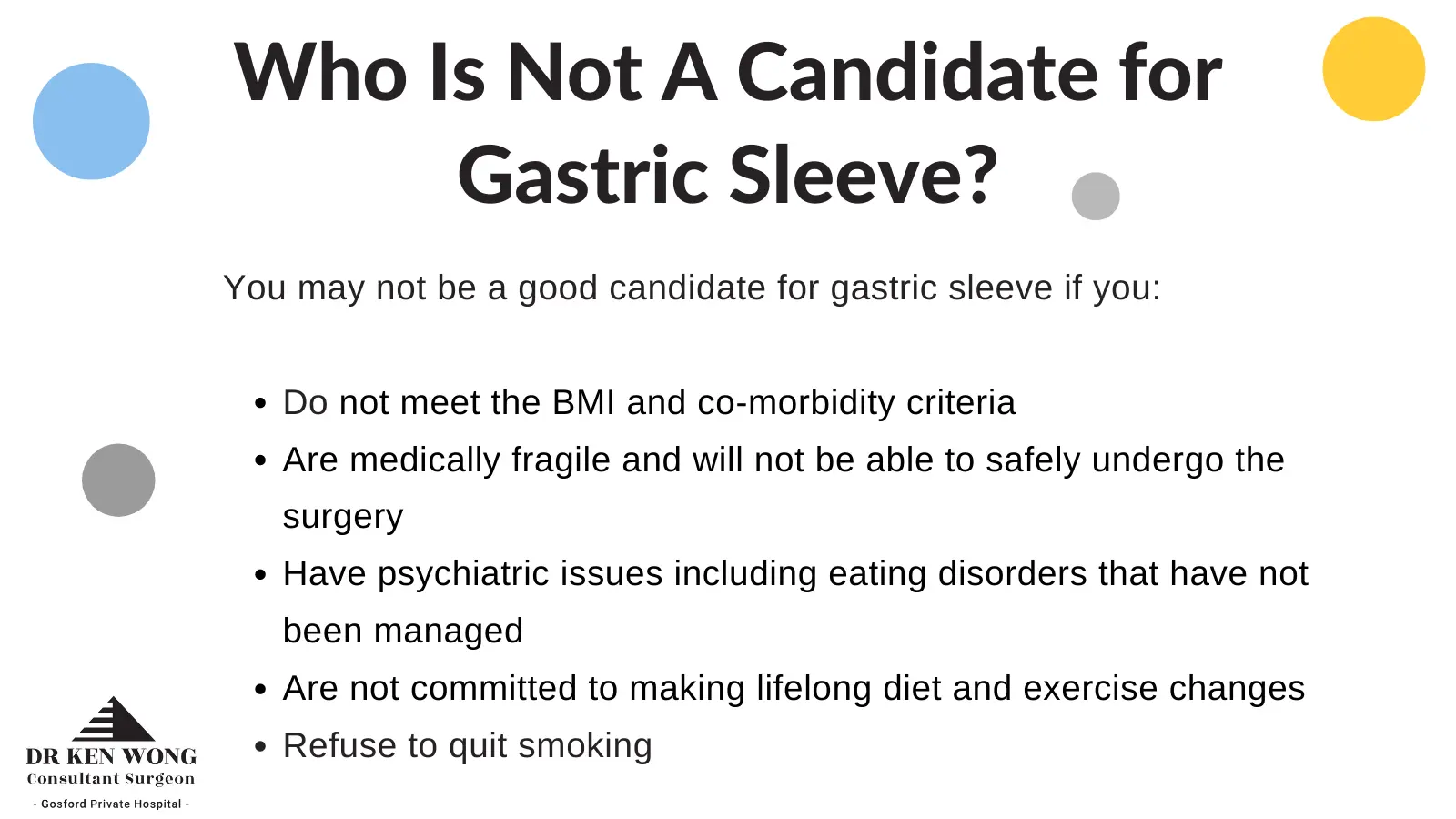 Medicare's Criteria for Weight Loss Surgery
When it comes to the Medicare criteria for weight loss surgery, there are a number of factors that determine whether or not someone is eligible for gastric sleeve Medicare coverage. Unlike cosmetic procedures, gastric sleeve and bariatric surgery are considered a health intervention. Medicare and private health insurance will cover costs of the surgery if the patient meets certain criteria.
Within the MBS directory, gastric sleeve surgery's number is 31575, and the number for gastric bypass is 31572. As per Medicare's description, bariatric surgery provides treatment of clinically severe obesity, which translates to a patient with a body mass index 40kg/m2 or more, or a patient with a BMI of 35kg/m2 or more with major medical co-morbidities such as diabetes, cardiovascular disease or cancer.
The BMI values in different population groups may vary due, in part, to different body proportions which affect the percentage of body fat and body fat distribution. Consequently, different ethnic groups may experience major health risks at a BMI that is below the 35-40 kg/m2 provided for in the definition. The decision to undertake bariatric obesity surgery remains a matter for the clinical judgment of the surgeon.
Central Coast Surgery Candidates
If you're someone that is looking for information on how to qualify for gastric sleeve Australia surgery, hopefully, this guide has provided you with some valuable information on how to be eligible for gastric sleeve surgery. However, only a certified bariatric surgeon with a background in gastric sleeve surgery will be able to establish if an individual is an appropriate candidate for the procedure. If you're ready to take the next step and talk to an experienced surgeon about your gastric sleeve eligibility, you can schedule a consultation with our chief resident surgeon Dr Ken Wong today.
Dr Ken Wong and the Central Coast Surgery team are the leading experts when it comes to safe, comprehensive and quality weight loss intervention. At the forefront of gastric sleeve surgery Newcastle, Central Coast and the surrounds, the CCS team are here to provide you with exceptional weight loss support. Get in touch with our friendly team today to learn more about how to qualify for gastric sleeve Australia and other bariatric surgery methods on (02) 4323 7000.