A gastric bypass procedure is a life-changing surgery for many people, significantly helping with weight loss and achieving a healthy lifestyle. So, what is gastric bypass revision surgery, and when is it needed? In this article, we will discuss the reasons for undergoing a revision after gastric bypass surgery and what to expect after gastric bypass revision.
What Is Gastric Bypass Surgery?
Gastric bypass, also known as the Roux-en-Y procedure, is an operation that creates a small pouch from the stomach and connects it directly to the small intestine. This results in swallowed food going into the small pouch and then directly into the small intestine. Gastric bypass is a common bariatric surgery performed when diet and exercise have not addressed significant weight and health problems. Other popular bariatric procedures include

sleeve gastrectomy surgery

and gastric banding.
Here at Central Coast Surgery, Dr Ken Wong is the leading provider of gastric bypass surgery, gastric sleeve Newcastle procedures and lap band surgery.
What Is a Gastric Bypass Revision?
Although many people experience great results and substantial weight loss after stomach bypass surgery, not all patients will see the same success after their primary procedure. A Roux en Y Gastric Bypass Revision surgery is a secondary operation performed when patients do not experience satisfactory results after their first bariatric surgery.
A patient may require Gastric Bypass revision surgery for reasons such as:
Weight regain

Inadequate weight loss

Complications after initial weight loss surgery

Chronic comorbid health conditions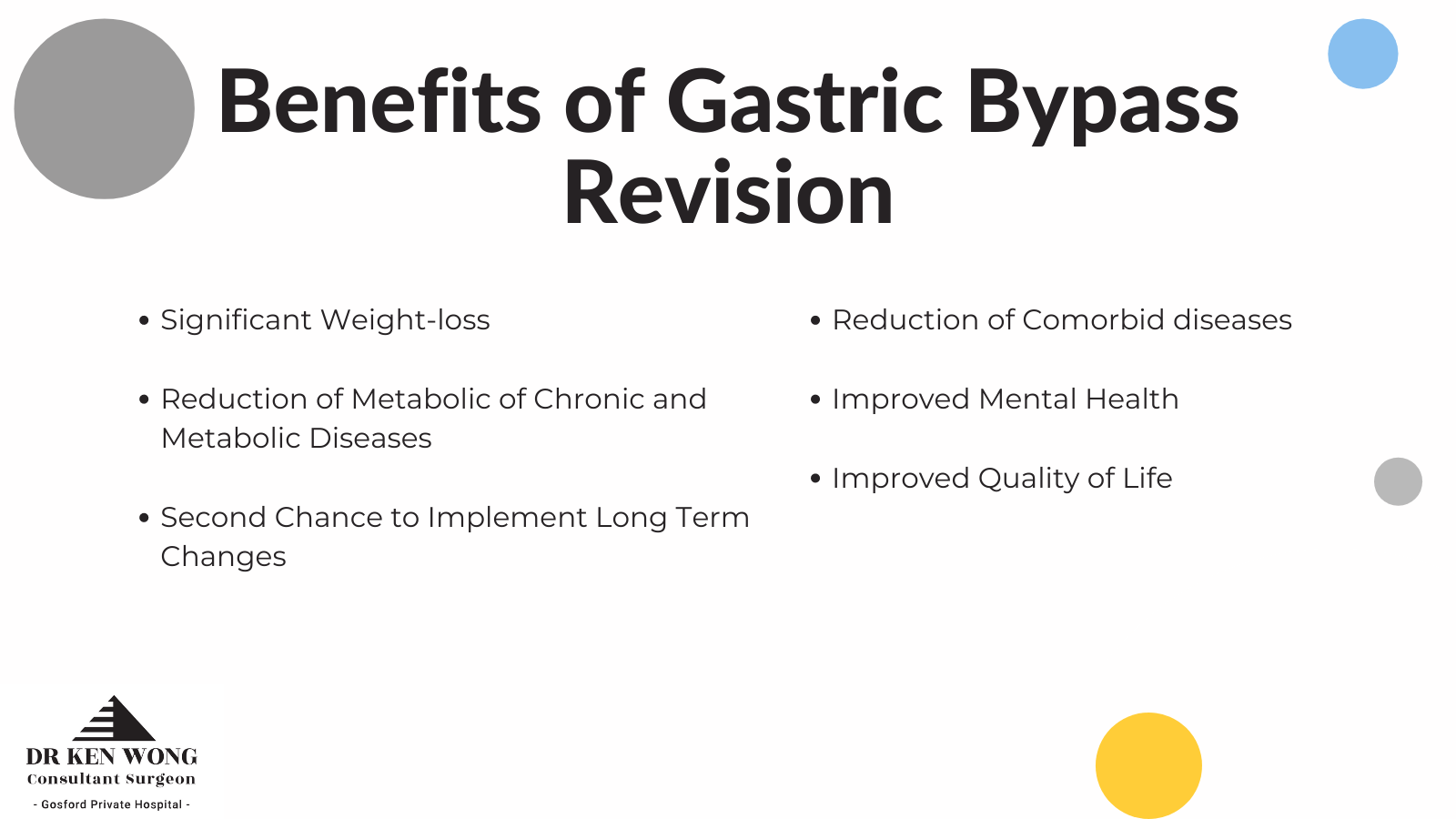 While revision surgery is common and well established in many other fields of medicine, most people are less familiar with bariatric revision surgery. Like any other surgery, there are always patients who do not respond as well as others and revision surgery may be required. For patients requiring revision after gastric bypass, there a few options available to remedy their situation.
Placing a band around the pouch (lap band surgery)

Narrowing the opening between the stomach and small intestine endoscopically

Bypassing more of the intestine so patients absorb fewer calories

Resecting or stapling the initial pouch created to a smaller size

Moving the roux limb to achieve more mal absorption
What is gastric bypass revision surgery going to look like for you? The exact procedure conducted could include one of the above or a combination depending on the recommendation and expertise of the surgeon overseeing your operation. Before undergoing your surgery, it's important to go through your unique set of circumstances with your surgeon, and the associated potential outcomes.
What Is Malabsorption?
Roux en Y gastric bypass revision surgery will result in what is known as malabsorption. This is a phenomenon that occurs as a result of the initial gastric bypass procedure.
Malabsorption means that your body can absorb fewer calories and nutrients from the food you eat due to the alterations made to your digestive system. Malabsorption aids weight loss following the procedure. However, it also needs to be monitored under the guidance of medical professionals as it also can result in malnutrition if not managed appropriately.
Is Gastric Bypass Revision Safe?
As with any surgery, there are risks involved in procedures for revision after gastric bypass surgery. The second surgery could involve more risks than the first operation, depending on the outcomes of the initial surgery and its effects.
Compared with other bariatric revision procedures, a revision gastric bypass surgery has a lower risk of complications. These procedures are done laparoscopically, and most patients can go home after 1 or 2 nights of resting under the care of medical professionals.
When you choose to undertake revision surgery, consult extensively with your team of medical professionals and surgeon who will perform the procedure. They will guide you through what is gastric bypass revision surgery and what it will entail for you. You will be thoroughly screened and undertake various tests and scans to help medical professionals ascertain if your body is suitable for revision surgery. Your doctor will walk you through the different treatments available for you and help decide whether surgery is the best option.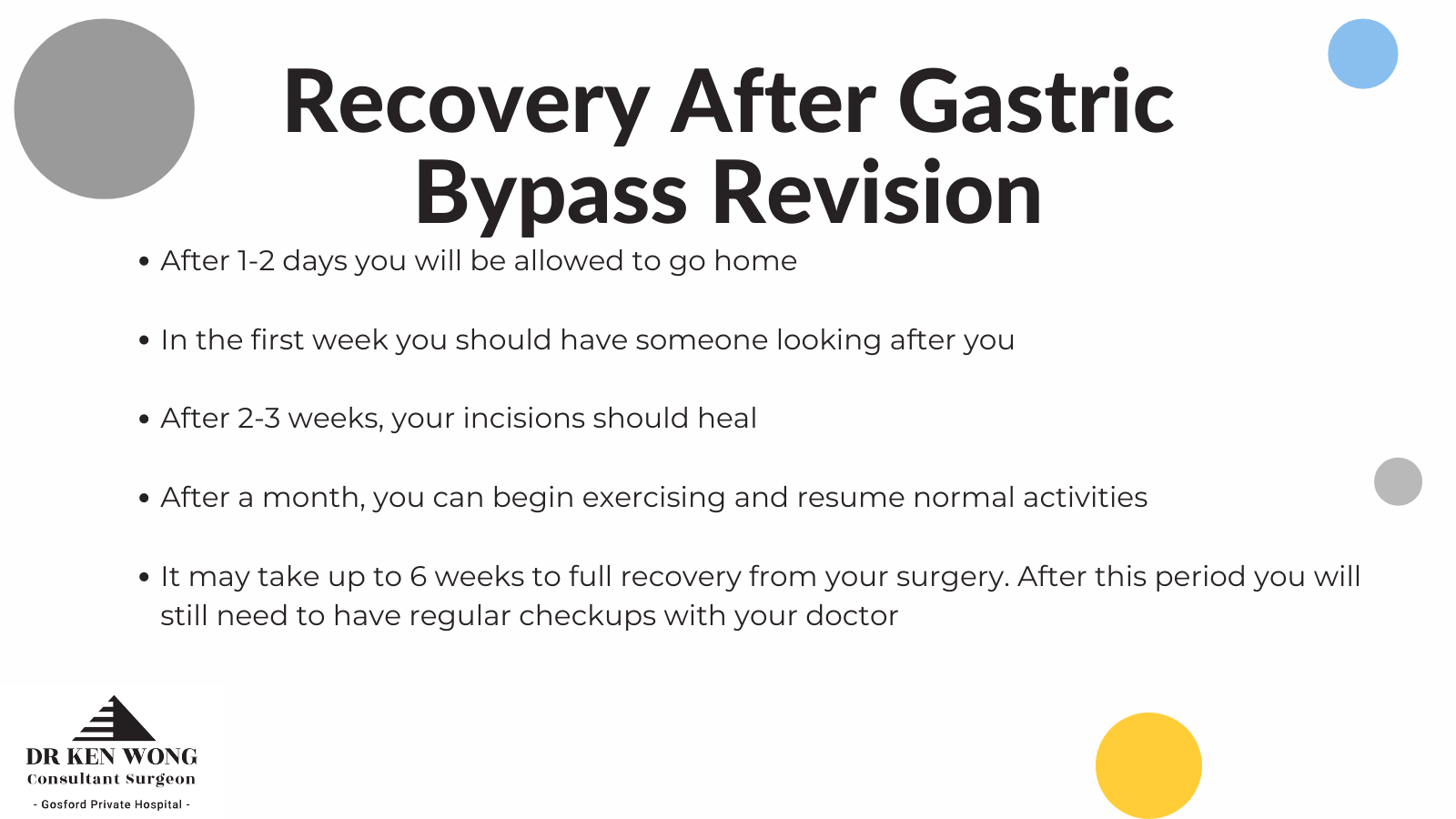 Because of the surgery and associated changes to their body, patients will be required to take vitamins for life and follow professional dietary advice to maintain their health.
So, is gastric bypass revision safe? Yes, as long as you consult with the right qualified bariatric professionals who conduct all of the necessary screening and testing to ensure you are a suitable candidate.
What to Expect After Gastric Bypass Revision:
Before you undergo your procedure, it is essential to know what is gastric bypass revision surgery recovery like, to prepare for a smooth and comfortable recovery.
After the operation, you will not only be recovering from a gastric bypass procedure, but your body will be experiencing a significant weight reduction. As such, you must adhere to the recommendations and advice from qualified health professionals surrounding.
Although often done laparoscopically, the Roux en Y Gastric Bypass Revision will create small incisions requiring healing and resulting in small scars. Compared to other procedures, the pain and recovery are significantly less. You can expect the incisions to heal in about two to three weeks.
You may need four to six weeks to fully recover from surgery. In the weeks following the surgery, you should gradually ease back into your average activity level and have someone to look after you in the first week. After about a month, you can expect to return to an exercise regimen and more strenuous activities.
After the surgery, significant lifestyle changes are required to achieve positive health outcomes. Whilst the surgery makes the necessary alterations to your body, it is up to you to follow through and create long term changes. To monitor your progress, it is required that you routinely check in with your doctor to monitor your nutrition, lifestyle, and medical conditions.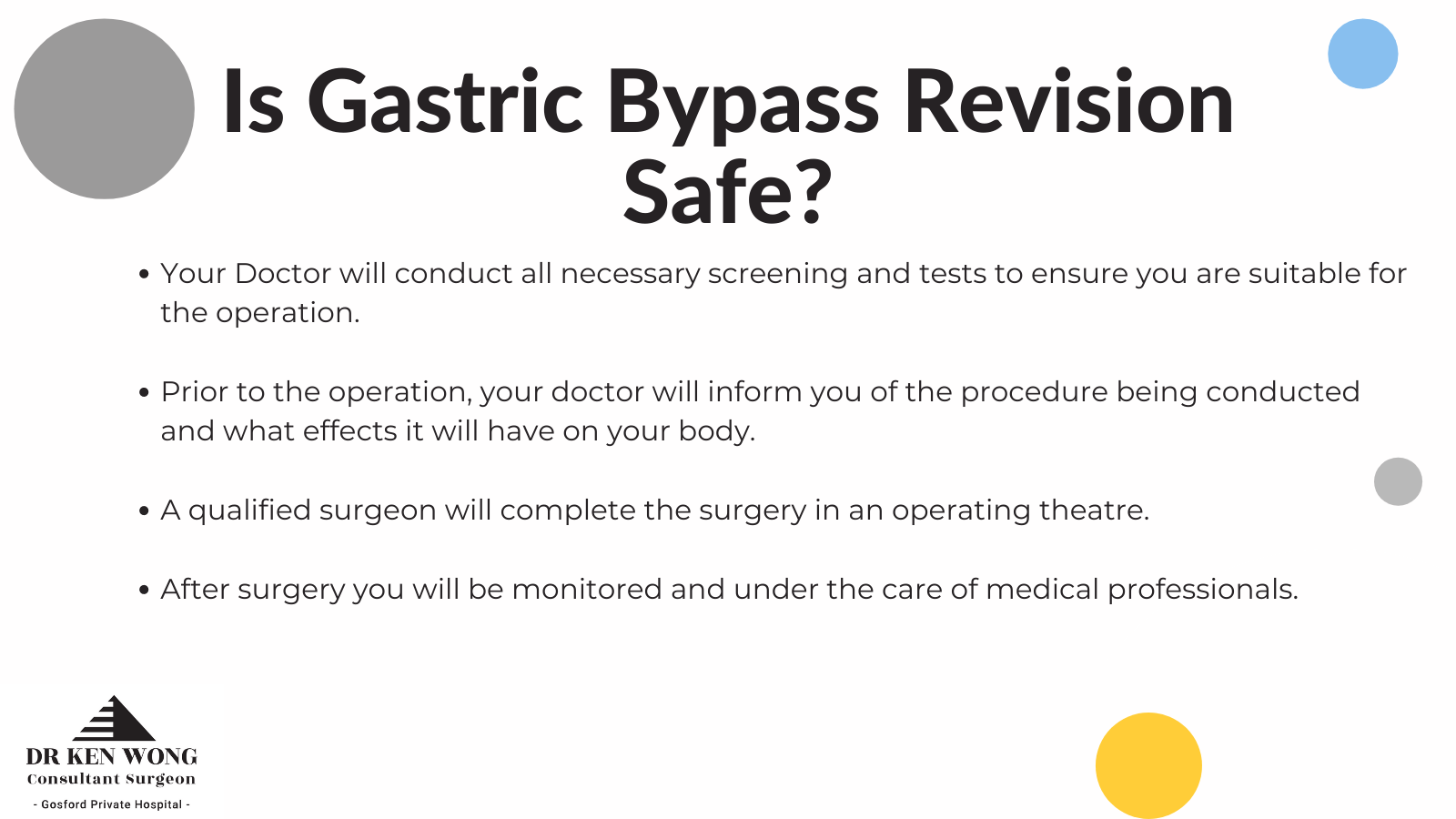 What Is the Average Weight Loss After Gastric Bypass Revision?
Patients who undergo gastric bypass revisions can lose between 50-80% of their excess body weight. As each patient and their situation is different, results may vary. However, with an expert bariatric surgeon, you and your surgeon will choose the most suitable procedure and achieve the best possible health and weight loss outcomes. Most patients see excellent results after their gastric bypass revisions results including:
A significant reduction in BMI

Resolution of nutritional complications

Reduced Acid Reflux
It is also important to note the indirect benefits of bariatric revision surgery. As patients begin to see changes in their body, they will also have a new lease of life. The drastic reduction in excess weight and healthy lifestyle changes can promote many other significant benefits.
Improved Mental Health
What is Gastric Bypass Revision surgery effect on mental health? Well, Obesity and chronic illness can have a significant impact on a patient's mental health. An improvement in physical health often brings with it tremendous mental health benefits. Improvements in self-perception and body image also bring about more stable emotions and a general improvement in quality of life.
Reduction of Metabolic or Chronic Illnesses
Comorbidities are diseases that coexist but are often independent of another disease or condition. The combination of chronic, metabolic and comorbid diseases increases an individual's reliance on health care and reduces their quality of life. Examples of comorbidities include diabetes, heart disease and high blood pressure. Some individuals choose to undertake revision surgery to address the presence of comorbid conditions. After completing a gastric bypass revision surgery, an individual may treat these diseases through weight loss and changes to their lifestyle.
Improved Quality of Life
The primary goal of bariatric or Roux en Y Gastric Bypass Revision surgery is to improve the quality of life for the patient following their operation. From this surgery, a significant majority of patients report substantial loss of their excess weight and numerous improvements to their health and wellbeing. The average weight loss after gastric bypass revision surgery can be up to 80% of excess weight. Other benefits aside from the weight loss include reduced joint pain, improved quality of sleep, remissions from type 2 diabetes and improved cardiovascular health.
These benefits of weight loss and a healthier outset are only possible if the patient has a commitment to maintaining a healthier lifestyle. While gastric bypass revisions are undoubtedly successful, the operation will only continue to provide successful weight loss if the patient continues to implement regular exercise and a balanced diet.
Conclusion
Although many choose to undertake their first gastric bypass surgery with the hopes of tackling chronic health issues and reducing their, they do not always manage their desired outcomes. Some cannot keep their excess weight off or remedy their chronic health issues, whilst others may experience weight regain as a result of not sticking to a healthier lifestyle.
As such, gastric bypass revision surgery provides a second chance for bypass patients to achieve their desired weight loss outcomes. Whilst an operation for revision after gastric bypass may be more complicated than the initial procedure, it can have tremendous health outcomes that allow individuals to control their lives, health and wellbeing.
If you seek consultation for gastric bypass revision surgery or other bariatric surgeries, please contact Dr Ken Wong and the team at Central Coast Weight Loss Surgery. As a specialist team, we provide our patients with extraordinary results and the utmost care throughout the process. Call our clinic today on (02) 4323 7000.