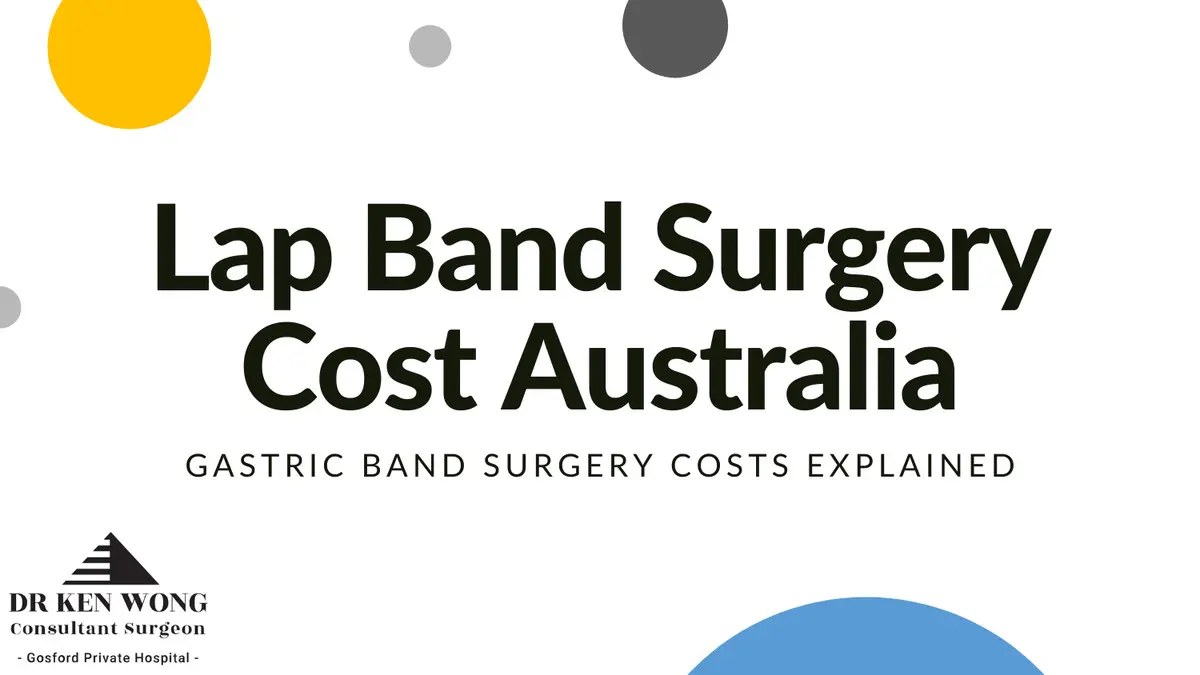 Lap Band Surgery Cost Australia
Lap band surgery cost in Australia can vary dramatically depending on your insurance status and chosen surgeon. This article will explore the factors that determine the gastric band surgery cost in Australia and what you can do to prepare yourself.
Lap band weight loss surgery is a bariatric procedure performed through keyhole surgery. The lap band procedure is conducted by a skilled bariatric surgeon, who places a restrictive adjustable band around the top part of the stomach. This type of weight loss surgery is known as a restrictive procedure and has been performed for more than 25 years in Australia.
Lap band surgery Australia is a procedure targeted at those suffering from extreme obesity and excessive weight gain. In an effort to reduce the intake of food, lap band surgery provides patients with the ability to feel fuller, earlier on. As the obesity rates in Australia, more people are turning to ways to dramatically lose weight and get their health back on track. One of the most frequently asked questions we are presented with is "What are lap band surgery cost Australia like?"
While we offer structured pricing models at Central Coast Surgery for all of our weight loss procedures, the average lap band surgery cost Australia will vary from practice to practice. In this article, we're going to cover all of the basics of lap band weight loss surgery, including how much gastric band surgery costs and the average lap band surgery cost Australia expenses for all types of patients.
How Much Is Lap Band Surgery?
There are a couple of considerations that determine lap band surgery cost Australia prices, the foremost being that gastric band surgery costs will depend heavily on whether the patient has private health insurance or not.
At Central Coast Surgery, gastric band surgery costs will depend on your private insurance coverage. Our clinic incurs lap band surgery costs at around $3,500 for insured patients. This fee will cover the lap band weight loss surgery, follow-up appointments, and clinician support and advice from our qualified dieticians, bariatric physicians, and psychologists. If you require further procedures for any complications within the first two years, there will be no additional charges from our weight loss clinic, as long as your private health fund still covers you.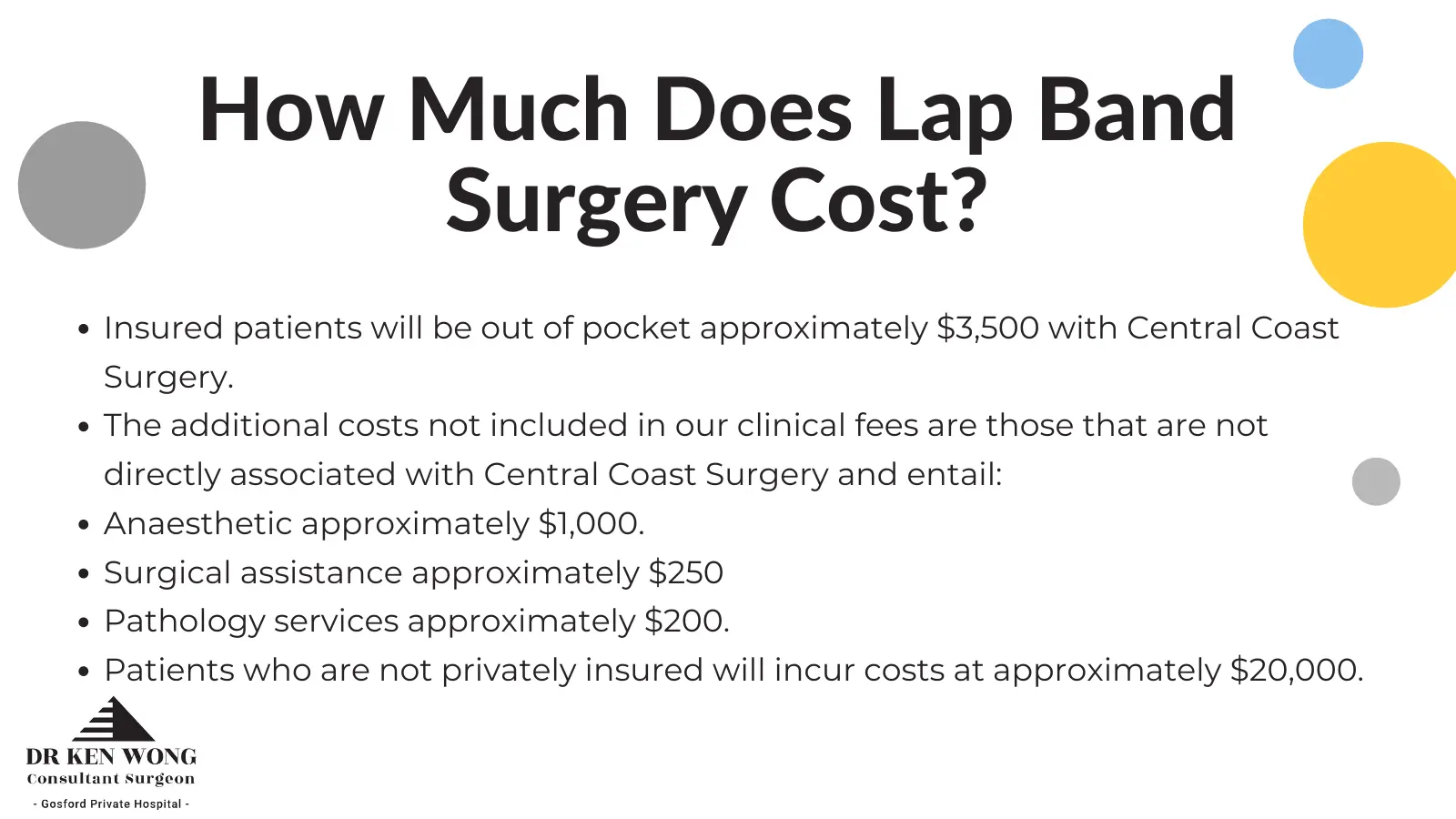 What's Involved in Gastric & Lap Band Surgery?
Lap band surgery is a weight loss procedure designed to restrict the upper part of the stomach temporarily. A surgeon will place an inflatable band around the top of the stomach, which will slow down the entry food to the main part of the stomach. This restrictive process will trick the patient into feeling full after eating only a small amount of food, reducing their overall food consumption. Gastric banding supports weight loss by making the patient feel feelings of fullness with less food.
Under full general anaesthesia, the surgeon makes small laparoscopic incisions on the abdomen, where a small camera and surgical instruments will work to place the band around the top part of the stomach. The access port is then placed along the wall of the abdomen before the surgeon closes up the incisions with sutures.
The inflatable lap band can then be adjusted, inflated and deflated to meet the weight loss demands of the patient. Adjusting a lap band involves your surgeon injecting saline into the port which is connected to the band. Over the next few months, the patient is expected to lose a significant amount of weight gradually with their new food consumption behaviours. After about 18 months, weight loss tends to slow down, and patients may need gastric bands readjusted. Lap band surgery is an entirely reversible and minimally invasive weight loss procedure.
How Long Does Lap Band Surgery Take?
Wondering how long does lap band surgery take? Fortunately, the procedure period for lap band surgery is relatively simple. During a 30-45-minute laparoscopic procedure, the lap band is placed around the stomach. From there, the surgeon will attach the access port and close the small incisions in the abdomen. All up, gastric band surgery should take around an hour but can also take up to two hours.
For gastric band adjustment, the inflatable band adjustment is completed with an injection of saline. Lap band adjustments are completed by your bariatric surgeon without surgery and will only take about 10 minutes.
Lap band removal is also a relatively straight forward procedure, provided that there are no patient and procedure complications. A gastric band removal will require the surgeon going back in laparoscopically, which should take the same amount of time as the initial band placement: between 1 to 2 hours altogether.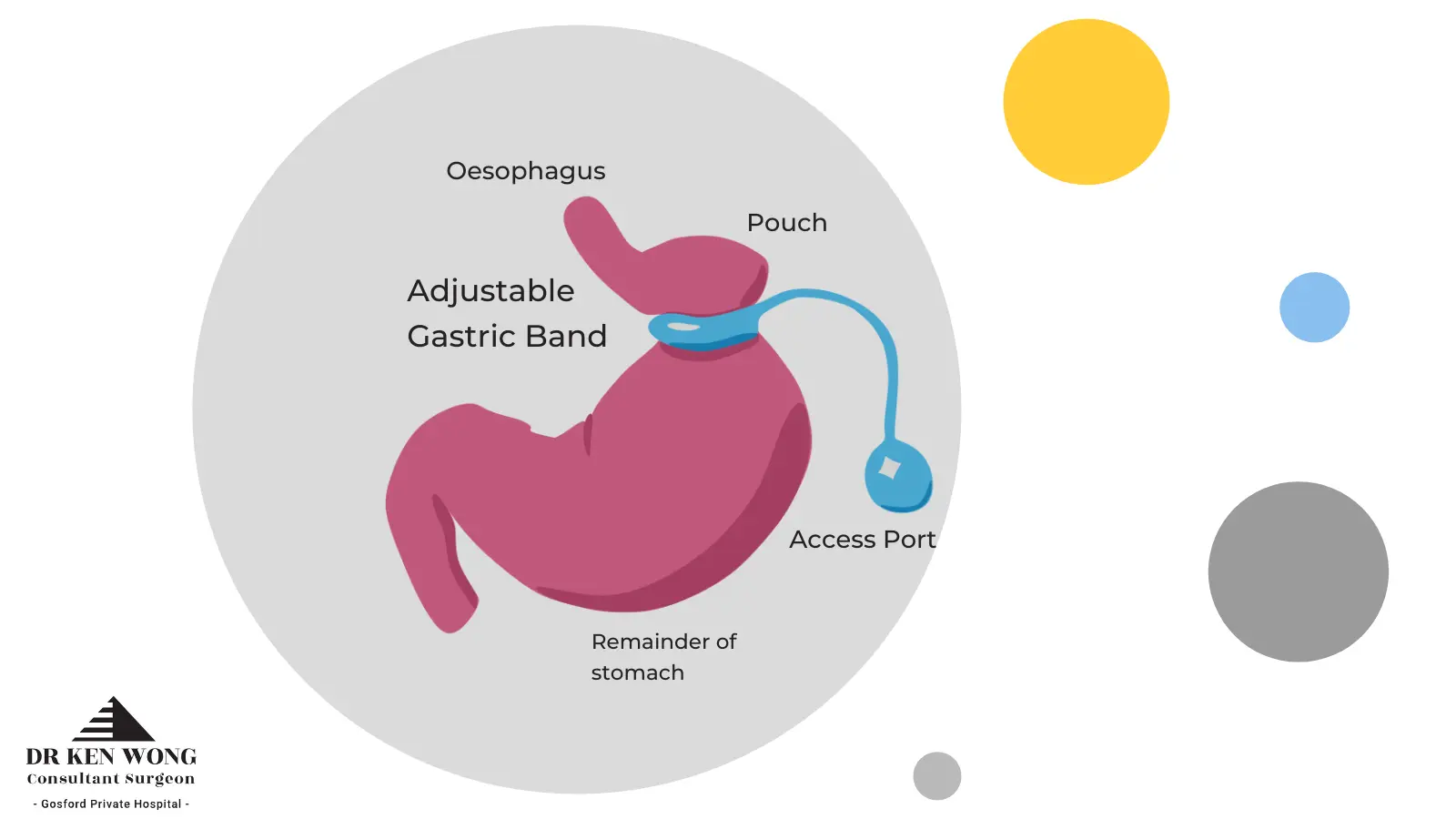 Does Free Gastric Band Surgery Exist?
Unfortunately, free gastric band surgery does not exist - not in Australia, anyway. Lap band weight loss surgery is classed as elective surgery and is therefore not fully covered under Medicare for any patients. There is a significant lap band surgery cost Australia involved in the bariatric procedure, with and without Medicare rebates.
Lap band surgery incurs relatively high costs because it is a surgical procedure that requires the collaborative efforts of a private surgeon, bariatric physician, clinical dietician, psychologist, anaesthetist and surgical assistance. Gastric banding is an elective procedure that while recognised as a Medicare item member, Medicare will not cover all of the costs and free gastric band surgery does not exist in Australia.
How Much Does Gastric Band Surgery Cost?
How much gastric band surgery costs really comes down to whether or not the patient has private health insurance. Those with private health insurance should have up to 85% of the overall lap band surgery cost Australia covered by their health insurance policy. If you do not have private health insurance coverage for gastric band surgery, the primary expenses will come from the private hospital out of pocket costs and the clinic fees.
At Central Coast Surgery, privately insured patients will be left out of pocket about $3,500 for gastric band surgery costs. Lap band surgery cost Australia with Central Coast Surgery includes the costs involved in the procedure, consultations and follow-up appointments. The fees not included in our gastric band surgery costs are those related to the anaesthetist, the surgical assistance, and any pathology required.
For uninsured patients, you are looking at approximately $20,000. This includes all fees from the surgery, to the anaesthetist, hospital fees and everything in between.
When comparing lap band costs Australia, it's important to remember that many weight loss clinics may charge more or less than others because of what is included in their individual clinic fees. Furthermore, there is also a percentage of lap band surgery patients who may require further surgery down the track – the average lap band surgery cost Australia will have considered this fact.
Am I Eligible for Lap Band Surgery?
Lap band weight loss surgery is typically beneficial for those who are at the lower end of the obesity spectrum as it can be particularly helpful for those who only require 20-25kg of weight loss. However, whether gastric band surgery will benefit your weight loss will vary from patient to patient. Patients who are considered eligible for gastric banding are also morbidly obese. In fact, in many cases, the surgery is specifically indicated for those with extreme excess weight as it can help patients to lose weight even if they cannot yet manage vigorous physical activity.
Are you wondering "Am I eligible for lap band surgery?"
There are several considerations that make a patient eligible for lap band surgery. Patients need to typically:
Have a BMI of at least 35

Have a BMI of at least 30 and one obesity-related co-morbid health concern (diabetes, hypertension, cardiovascular disease etc.)

Be over 16 years of age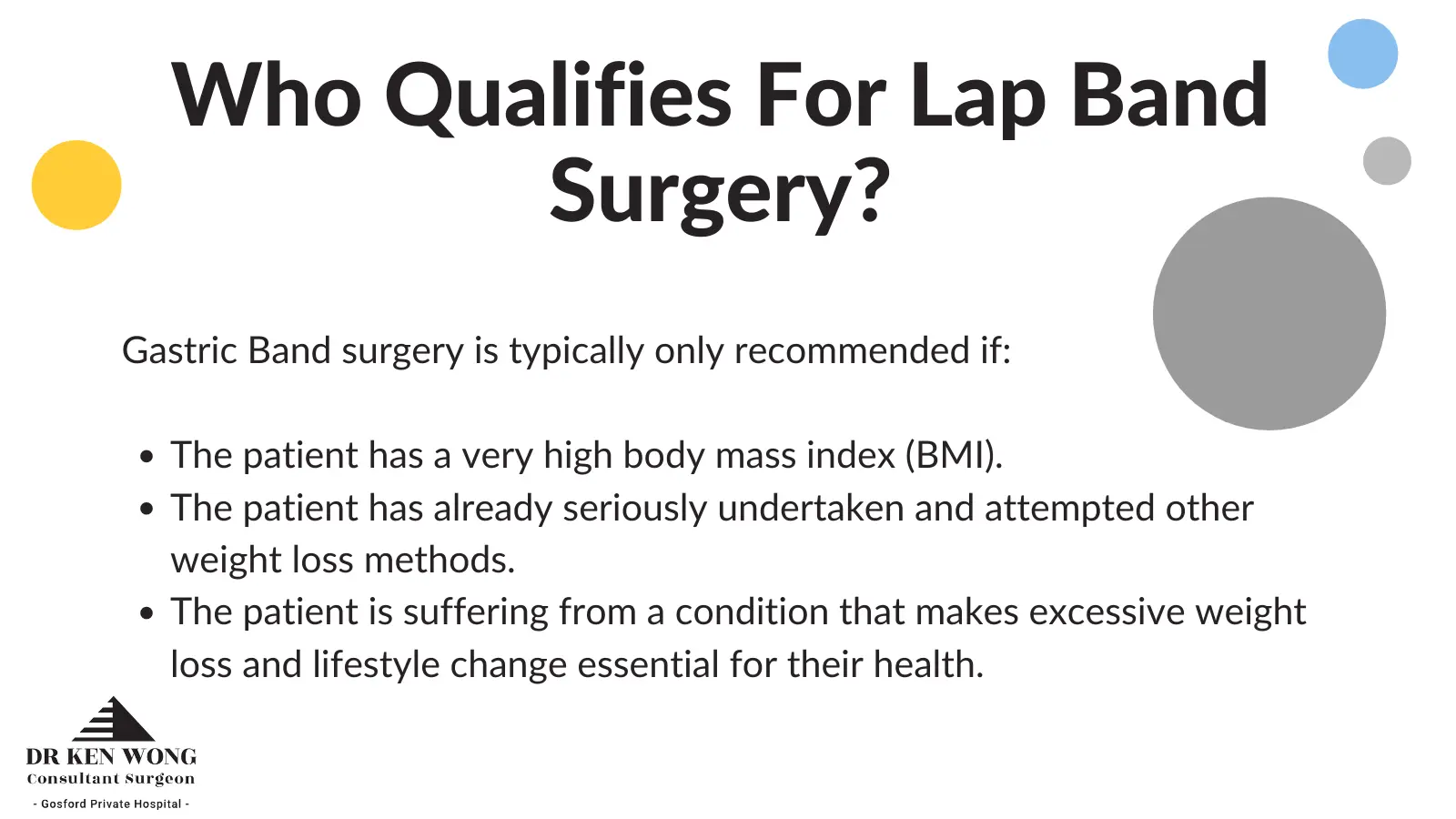 When it comes to who is a potential candidate for gastric band surgery, most successful patients are those who have a history of and failed weight-loss attempts in the past with more conventional approaches. All lap band surgery patients need to demonstrate a clear understanding of the procedure and be willing to undertake serious lifestyle changes to support successful weight loss. At Central Coast Surgery, we ensure that all of our potential gastric band surgery patients meet with our expert physicians and psychologist to ensure that they are both physically and emotionally ready for a transformational weight loss surgery like gastric banding.
How Long Does Gastric Band Surgery Take to Recover From?
How long does gastric band surgery recovery take depends on the person. When compared to other forms of abdominal and bariatric surgery, keyhole surgery typically entails a much faster recovery period.
Gastric band surgery will often require a short hospitalisation stay of one night for observation. Often, simple lap band surgery may be completed as day surgery. Generally speaking, most patients will be able to return to their daily activities and work one week after the surgery – providing their job is not too physically demanding. Normal activity and regular mobility will resume after six weeks.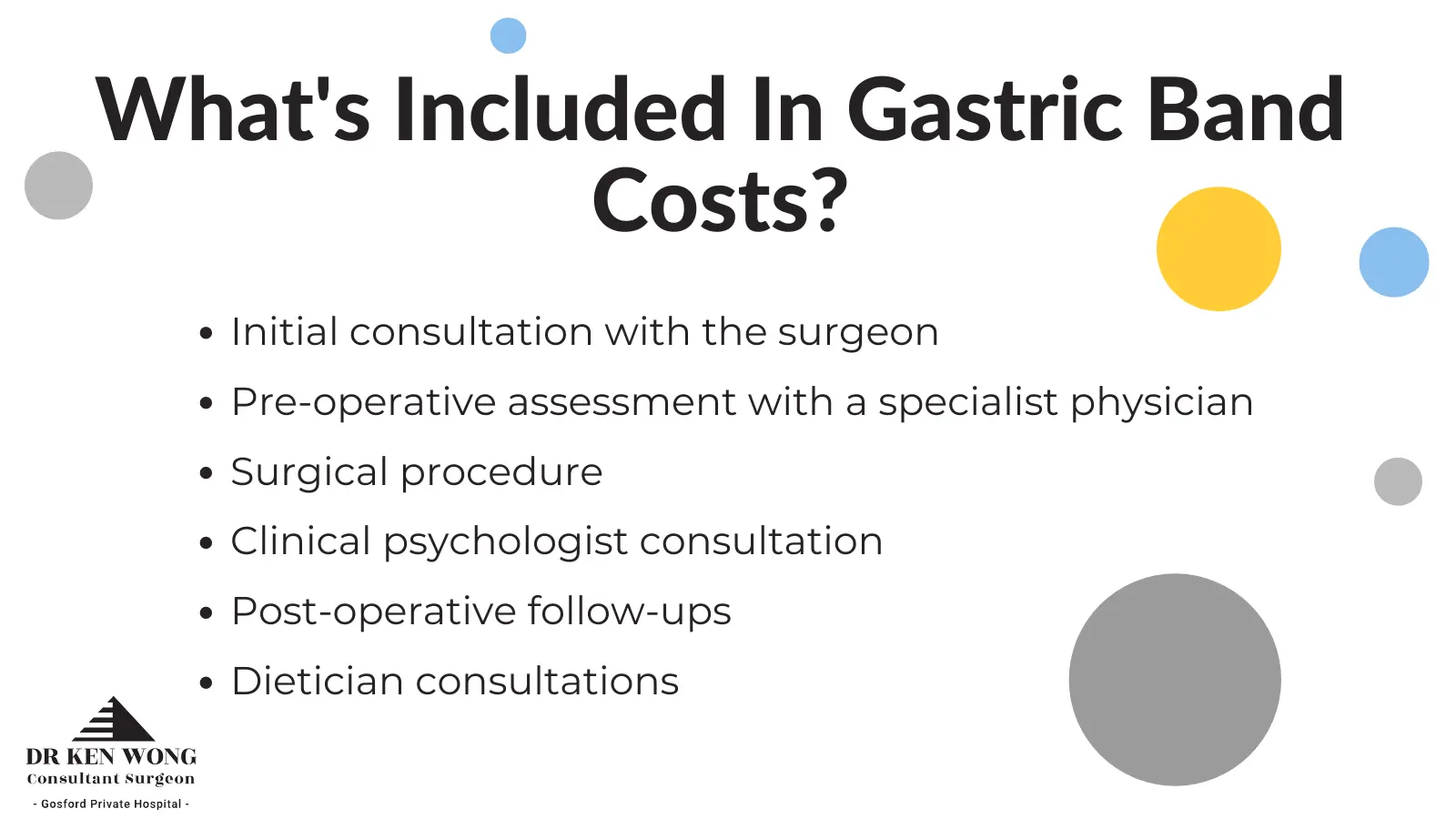 What Is Lap Band Surgery Procedure Dieting?
When you undergo lap band surgery, you're committing to making better and healthier lifestyle choices. This includes carefully considering the food you're consuming to ensure you are achieving a healthy, balanced diet. Before you have your lap band surgery, it's a good idea to consider dieting to get your body ready for the lifestyle changes ahead. Losing a little bit of weight also helps to minimise the risk of complication during surgery.
Pre-op lap band surgery diets will vary from practice to practice but will generally involve foods and behaviours that reduce the liver size to increase surgical access to the stomach. Before your surgery, your dieting should involve focusing on healthy proteins and eliminating processed foods, drinks, and sugars from your diet.
Post-op gastric band diet will also depend on what your surgeon and physician recommend. Generally speaking, patients will need to undergo a strict liquid diet immediately following the operation and continue following it for a couple of weeks. After that, the lap band surgery diet will move to pureed foods for a number of weeks, before slowly introducing solids again.
Of course, this is just the first step to lap band surgery diets. After your gastric band procedure, you will need to be willing to undertake a life-long commitment to eating a healthy, balanced and high-quality diet.
Can You Drink Alcohol After Lap Band Surgery?
After your lap band surgery, your stomach will only be able to hold a small amount of food or liquid. It is generally recommended that you avoid alcohol for at least the first six months following your lap band weight loss surgery. This is because the size of your stomach means that you will become intoxicated very quickly, and it's not difficult for your stomach to reach the point of alcohol-induced vomiting.
After six months or so, gastric band surgery patients may choose to consume alcohol in moderation. When your specialist or surgeon permits you to start drinking alcohol again, it's important to avoid sugary and carbonated beverages, and only drink in moderation. Drinking alcohol after bariatric surgery can lead to rapid intoxication and low blood sugar.
Lap Band Surgery Cost Australia
When it comes to understanding lap band surgery cost Australia, it's normal to feel that these overhead costs may be overwhelming or daunting. The expenses of gastric band surgery costs are to ensure safe and effective procedure and care. The seriousness of such a procedure should not be underestimated – as a patient, you are going under to have a minimally invasive procedure to alter the way your body consumes and digests food.
If you're worried that you'll be out of pocket a significant amount for how much gastric band surgery costs, consider the savings. You may well save the expenses of your lap band weight loss surgery within a couple of years through a reduction in grocery and food bills, and medical costs and pharmaceuticals as your obesity-related illnesses are addressed. Let's not forget the biggest saving that comes with weight loss surgery – a projected significant increase in life expectancy and quality of life. You really can't put a price on getting your health back on track.
At Central Coast Surgery, we are pleased to present one of Australia's leading bariatric and weight loss surgeons. An expert in the field of keyhole and gastric band surgery, Dr Ken Wong is at the forefront of Australian obesity surgery. If you'd like to learn more about our clinic and what we can offer you with lap band surgery, get in touch today to talk to one of our friendly clinicians.