Do you have to be obese to get gastric bypass surgery? Not necessarily - however, weight loss surgery isn't for everyone. So, if you're questioning whether you're a candidate for bypass surgery, it's worth taking a closer look at the criteria that need to be met to qualify for gastric bypass surgery.
Dr Ken Wong is Central Coast Surgery's leading bariatric surgeon. An experienced surgeon who has performed thousands of weight loss surgery procedures, Dr Ken Wong is focused on providing minimally invasive weight loss options that change the lives of his patients for the better.
In this article, we'll clarify what gastric bypass surgery involves, why gastric bypass surgery is sometimes necessary, and who is well suited to gastric bypass surgery.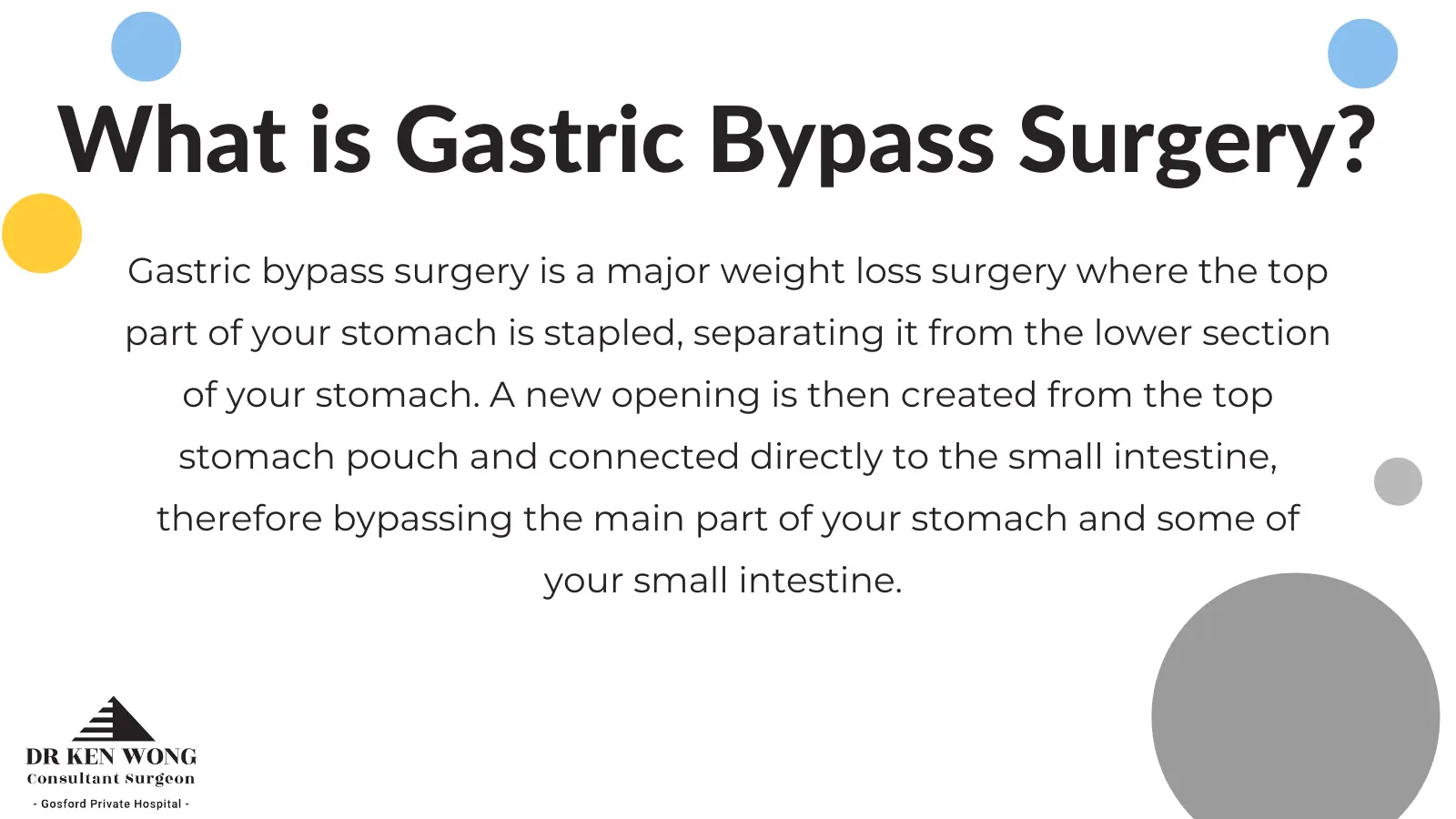 What is Gastric Bypass Surgery?
Gastric bypass surgery is a major weight loss surgery where the top part of your stomach is stapled, separating it from the lower section of your stomach. Unlike gastric sleeve surgery, a new opening is then created from the top stomach pouch and connected directly to the small intestine, therefore bypassing the main part of your stomach and some of your small intestine.
Often referred to as stomach bypass surgery or roux-en-y gastric bypass surgery, this form of weight loss surgery is effective because it makes the stomach smaller and changes the way that food is absorbed, making weight loss easier to achieve. Patients who have has a gastric bypass are far less likely to overeat because only small amounts of food can be consumed at a time.
Studies have shown that it's possible to lose up to 90% of your excess weight after gastric bypass surgery, with most patients (75%) losing 75-80% of their excess body weight after surgery.
The bariatric surgery is performed under general anaesthetic and patients usually stay in hospital for up to a week afterwards. Most people can return to their normal activities 3-5 weeks after bariatric surgery is complete.
Why Consider Gastric Bypass Surgery?
Gastric bypass surgery can help patients who are morbidly obese lose the excess weight that limits them physically and mentally. Significant weight loss can add years to your life and improve your health dramatically. Research shows that losing as little as 5% of your total body weight can have considerable health benefits, including improved:
Heart health

Sleep

Mobility

Energy

Joint health

Stroke risk factors

Cancer risk factors
In addition to improved physical health, mental health has also been shown to improve after weight loss, especially if it's been something that a patient has struggled with for years or even decades. Improved self-esteem leads to being less self-conscious in public, more assertive in the workplace, more comfortable socially and having a huge sense of accomplishment and self-worth.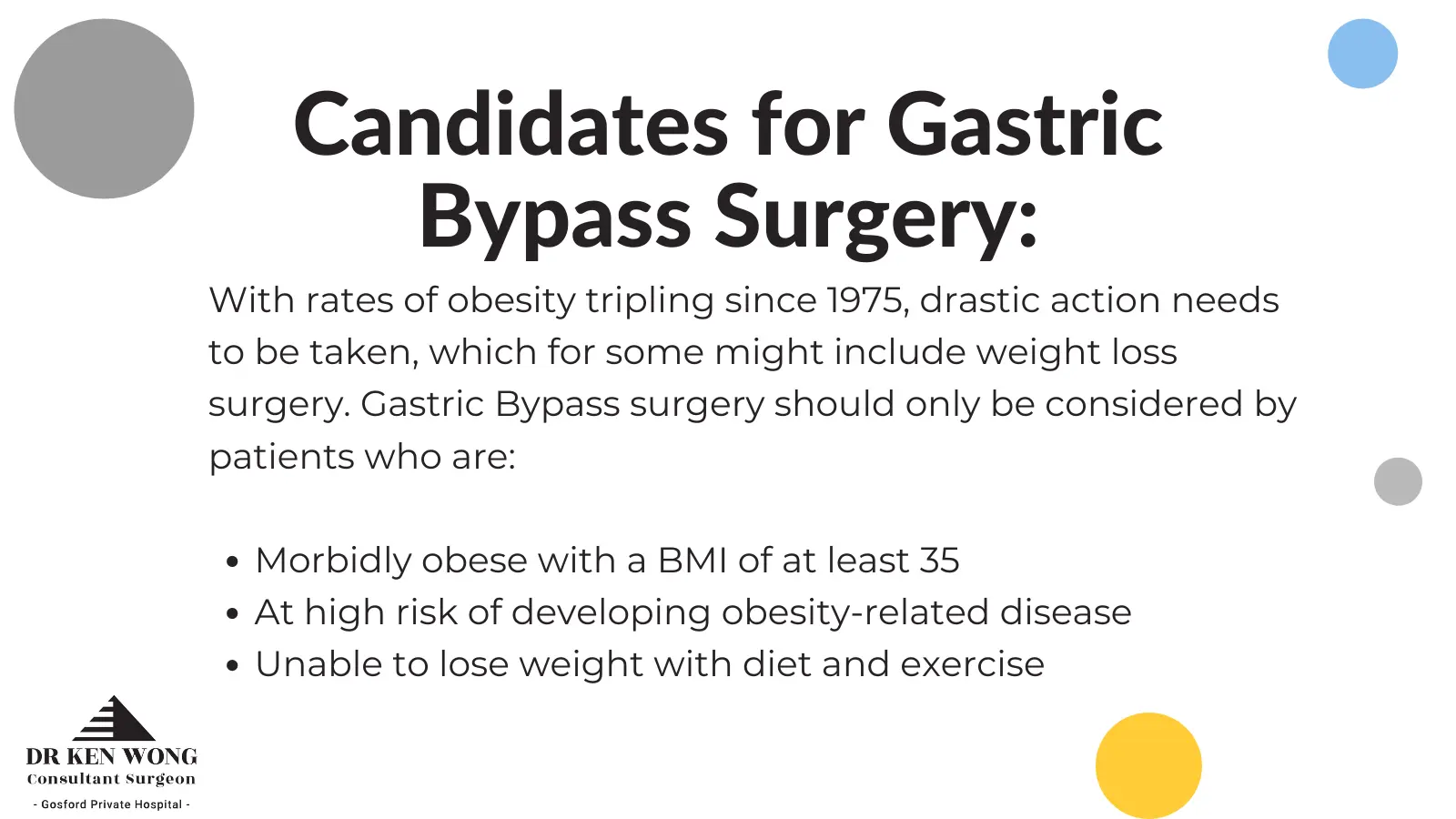 Do You Have to Be Obese to Get Gastric Bypass Surgery?
Obesity is a global epidemic affecting over 300 million people according to the World Health Organisation. Obesity is a complicated condition that is concerning for health professionals because having a body mass index (BMI) of over 40 is associated with lower quality of life and poor mental health outcomes. With rates of obesity tripling since 1975, for some people, the best course of action is pursuing weight loss surgery.
There are a number of factors that determine the right candidates for gastric bypass surgery. For most patients, the primary factor for weight loss surgery is obesity. However, there are other factors that make someone a candidate for a gastric bypass.
Gastric bypass surgery is a major bariatric surgery that should only be considered by patients who are:
1. Morbidly obese with a BMI over 40
If you have had a body mass index of over 40 for at least five years, or if your body mass index is over 35 and you are at high risk of developing life-threatening health problems, you may be a good candidate for a weight loss surgery journey.
Although a BMI score doesn't give an exact body fat percentage, it's still a useful tool to gauge overall health and assess if people are good candidates for gastric bypass surgery. A BMI of 40 translates to being overweight by about 45kg.
2. At High Risk of Developing Related Health Conditions
People who are obese are at an increased risk of developing a range of serious health conditions or obesity related illnesses that include (but are not limited to): high blood pressure, type 2 diabetes, coronary heart disease, stroke, various cancers, gallbladder disease as well as clinical depression, anxiety, and other mental illnesses.
Choosing to be a candidate for weight loss surgery can be a life-saving decision, allowing people who were once obese to reclaim their lives and go on to fulfil their potential.
3. Unable to Lose Weight with Diet and Exercise
If you've been unsuccessful with previous attempts to lose weight solely by changing your diet and exercise, gastric bypass surgery might be the simplest way to achieve your goals and start living a healthy lifestyle. The risks associated with living with obesity far outweigh the risks of being a candidate for bariatric surgery to help you correct the condition.
However, weight loss surgery is not an alternative to the conventional weight loss methods of diet and exercise. Gastric bypass surgery is the last resort when traditional methods fail. The goal of any weight loss surgery is long-term, sustainable weight loss and this goes hand-in-hand with behavioural changes and a commitment to living a healthier lifestyle.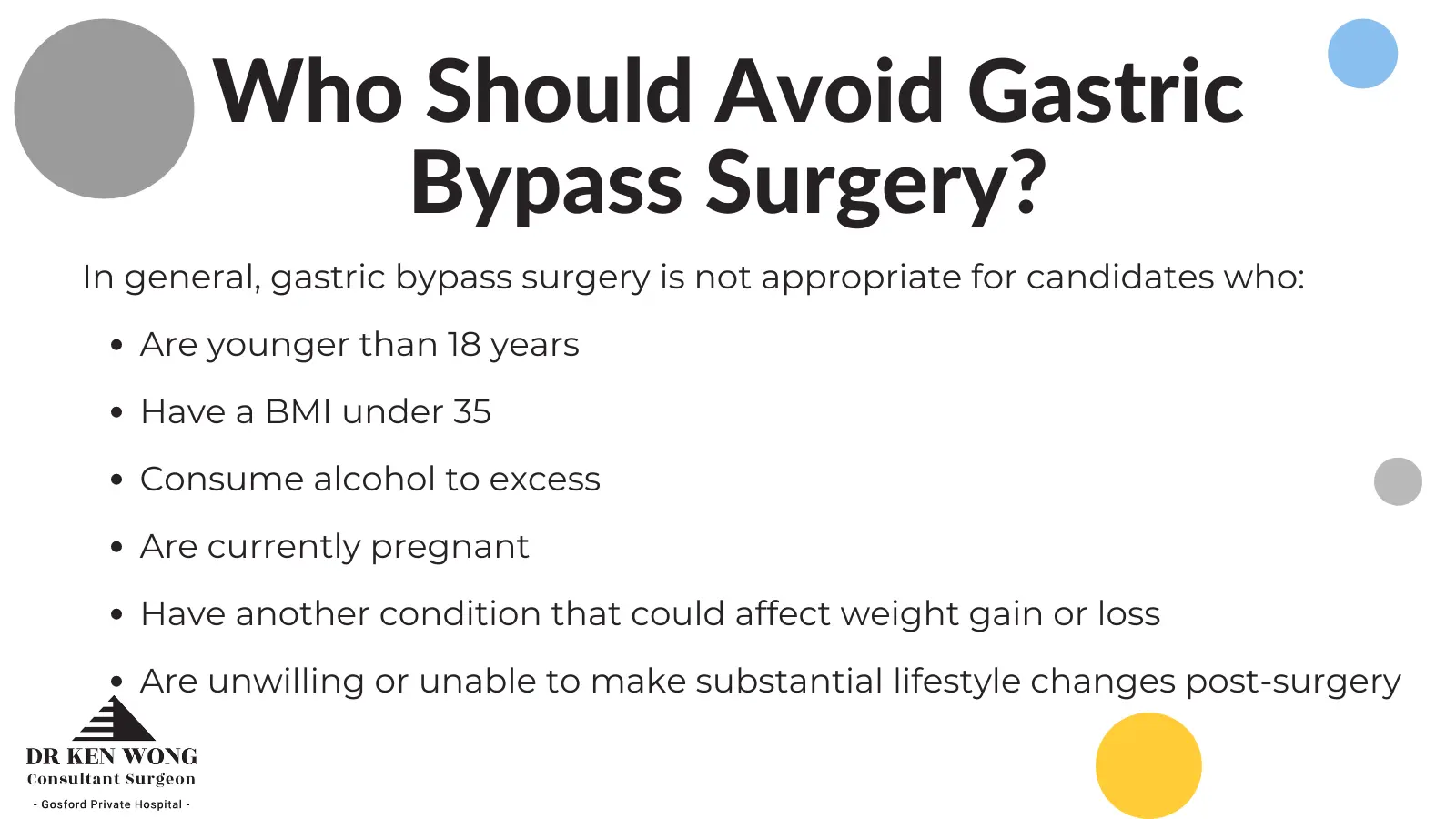 Who Should Not Consider Gastric Bypass Surgery?
Obesity is a global health crisis and weight loss surgery is a recognised treatment that can help sufferers lose weight, reverse obesity-related conditions and generally improve quality of life. However, there are a few factors that contribute to not being the right candidate for gastric bypass surgery.
When a person presents for assessment for gastric bypass surgery, a multi-disciplinary assessment will then take place, giving consideration to a patients psychological, surgical, dietetic, and medical background. Therefore, a good candidate for bariatric surgery must be both physically and psychologically fit to proceed. If a candidate presents with poor physical or psychological fitness, to undergo weight loss surgery may be too risky.
In general, gastric bypass surgery is not appropriate for candidates who:
Are younger than 18 years

Have a body mass index under 35

Consume alcohol to excess

Are currently pregnant

Have another condition that could affect weight gain or loss

Are unwilling or unable to make substantial lifestyle changes post-surgery
Choosing the Best Weight Loss Clinic
In conclusion – it is clear that gastric bypass surgery is indeed only suitable if you're obese or suffering from a condition caused by excessive weight gain. A gastric bypass is a last resort for weight loss, rather than the first step.
If you are considering a gastric bypass procedure, bariatric surgery is a monumental step; so, selecting the best possible multi-disciplinary weight loss team is key to successful postoperative outcomes, particularly when it comes to life-changing gastric bypass surgery.
At Central Coast Surgery, we work with each of our patients from their very first consultation, right up until they achieve their post-surgical health and weight-loss goals. Our team consists of our principal surgeon, Dr Ken Wong, as well as dieticians, weight loss doctors, and exercise physiologists, who are all there to support you on your journey to better health.
Gastric bypass surgery isn't a quick fix, it's a solution that requires long-term commitment and consistent effort. to undergo weight loss surgery could be the best way for you to turn your life around. To see if you, or someone you love, are good candidates for gastric bypass surgery give our team a call on (02) 4323 7000 today. Dr Wong and the team at Central Coast Weight Loss Surgery happily treat patients from the Central Coast, Newcastle, and Sydney.