As concerns over obesity and its impact on pregnancy continue to grow, many patients are curious about the possibility of pregnancy after lap band surgery, or alternatively, the effectiveness of lap band surgery after pregnancy. So, can you have a baby after lap band surgery?
The popularity of lap band surgery is increasing in Australia with nation-wide obesity concerns. Research has been conducted internationally to explore the safety and efficacy of the procedure before and after pregnancy.
Can You Have a Baby After Lap Band Surgery?
Yes. Conclusively, doctors can confirm the procedure is safe both before and after pregnancy.
Central Coast Surgery will outline the benefits of having the surgery before pregnancy and alleviate prospective patients' concerns about associated risks to pregnancy after lap band surgery.
Pregnancy After Lap Band Surgery: The Basics
Today's safest and most commonly conducted weight-loss surgical procedure is Laparoscopic Adjustable Gastric Banding, more widely known as the "Lap-Band" Surgery. In the lap band procedure, the surgeon, through small incisions and a camera's help, inserts a silicone band around the stomach that restricts the patient's nutrient intake by narrowing the passage for food to pass through. Once inserted, the band's effectiveness is managed through tightening or loosening the band via a saline solution through a port inserted under the skin.
For women looking to complete this procedure, one concern might arise about the possibility of nutrients not reaching their baby in the womb. Studies have shown that the lap band procedure is rarely associated with any complications between the mother and the foetus.
So, in short, patients wondering, "Can you have a baby after lap band surgery?" can be assured that pregnancy after lap band surgery is achievable. In many cases, it is most likely the safer option compared to the potential complications of pregnancies associated with obesity. However, many doctors will recommend you allow your body time after the procedure to recover before looking to conceive. Prospective patients should discuss other goals like a certain amount of weight loss or other health-related objectives with their doctor to see where they fit within pregnancy ambitions following surgery.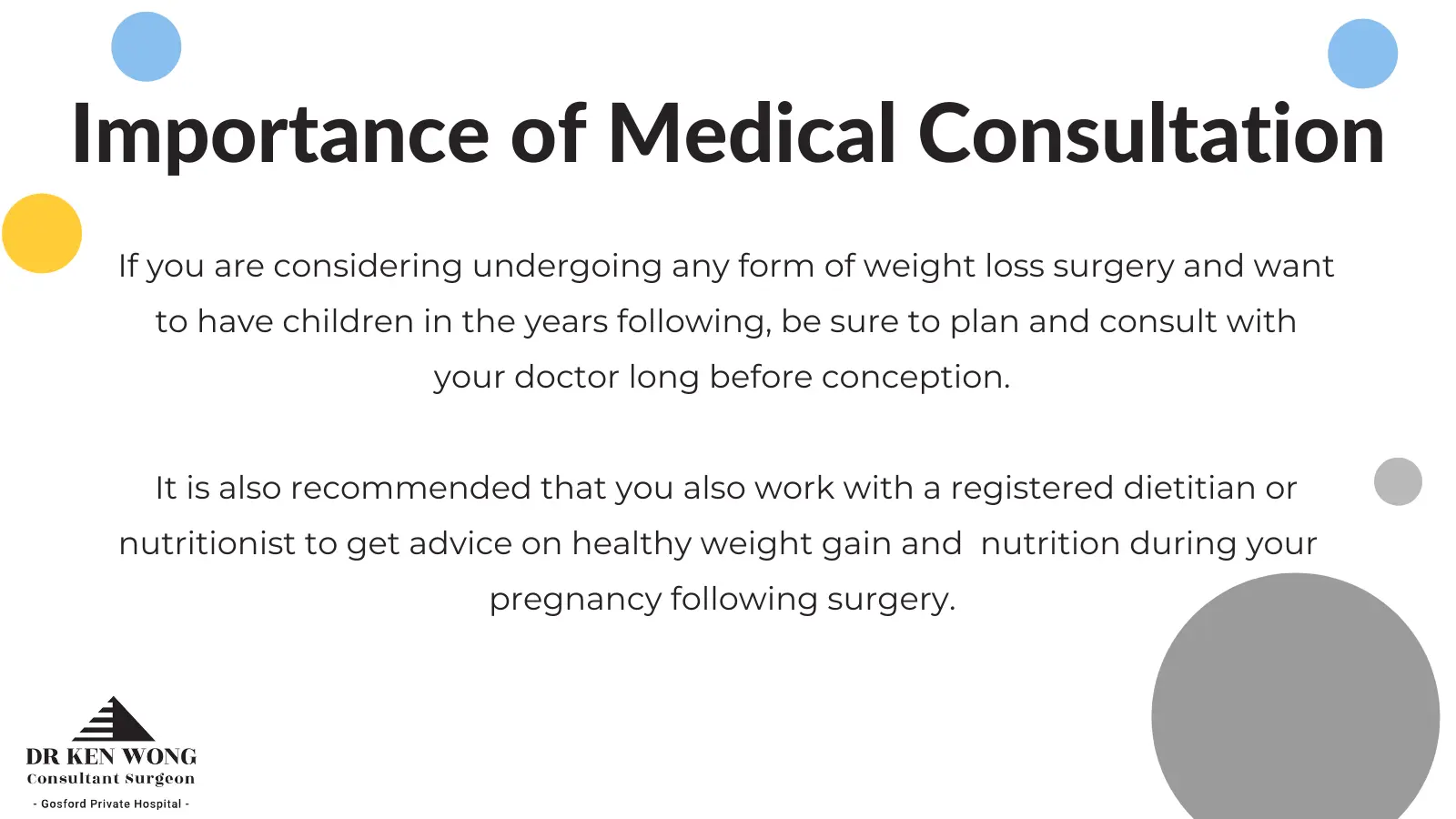 Benefits of Pregnancy After Lap Band Surgery
Obesity carries many health-related issues linked to fertility, so a successful weight-loss surgery will be immensely positive in increasing fertility. Lap-Band surgery is linked to many benefits for women looking to conceive. Some of the most notable benefits of attempting to conceive after weight loss include:
Boost In Fertility
Effective lap band surgery has been linked to a boost in fertility in many patients. Women who once had fertility problems related to obesity will find they will begin to ovulate effectively for the first time since complications from weight began. Seven out of ten female patients return to a regular menstrual cycle following the insertion of a lap band.
Lowered Risk of Obesity-Related Complications
Losing weight is immensely positive for women looking to conceive. Pregnancy after lap band surgery, and proper medical management, will see a sharp reduction in the likelihood of obesity-related complications. Once the weight has been lost following the surgery, patients are at must lower risk of:
Gestational diabetes (developing diabetes during pregnancy)

Pre-eclampsia (blood pressure disorder at around the 20-week mark of pregnancy)

Macrosomia (large baby)

Neonatal intensive care admission
Better Hormone Balance
Lap band surgery is linked to improvements in hormonal changes caused by polycystic ovarian syndrome (PCOS), which can be a negative outcome of being overweight.
Male Fertility and Pregnancy After Lap Band Surgery
Whilst the benefits for women after lap band surgery are well documented and involve both the patients' health and their baby's health during and after pregnancy. Lap band surgery also improves the chances of pregnancy for men looking to conceive with their partner. Successful weight loss surgery will normalize testosterone levels and increase the likelihood of men producing higher levels of sperm.
Pregnancy After Lap Band Surgery: Safety Measures
Following your lap band surgery, regular consultation with your doctor is recommended to follow the procedure's success and ensure the band is working as intended without complication. Conducting regular check-ups help keep an eye on your progress and ensure the weight is being lost at a healthy rate. For patients looking to conceive following the procedure, most doctors recommend waiting a period of twelve to eighteen months until your weight stabilizes. In some instances, depending on how much weight is lost or other aspects of your medical history, your doctor may recommend waiting even longer.
Once this period has passed and you have conceived successfully, you will still need to attend regular check-ups to monitor your pregnancy with a doctor. During the pregnancy, your doctor will monitor your weight and the growth of your baby during each trimester to ensure your foetus is receiving adequate nutrition. Your doctor might request you take specific supplements such as B12, folic acid, Vitamin D, or calcium alongside other standard prenatal vitamins to ensure the healthy growth of the baby.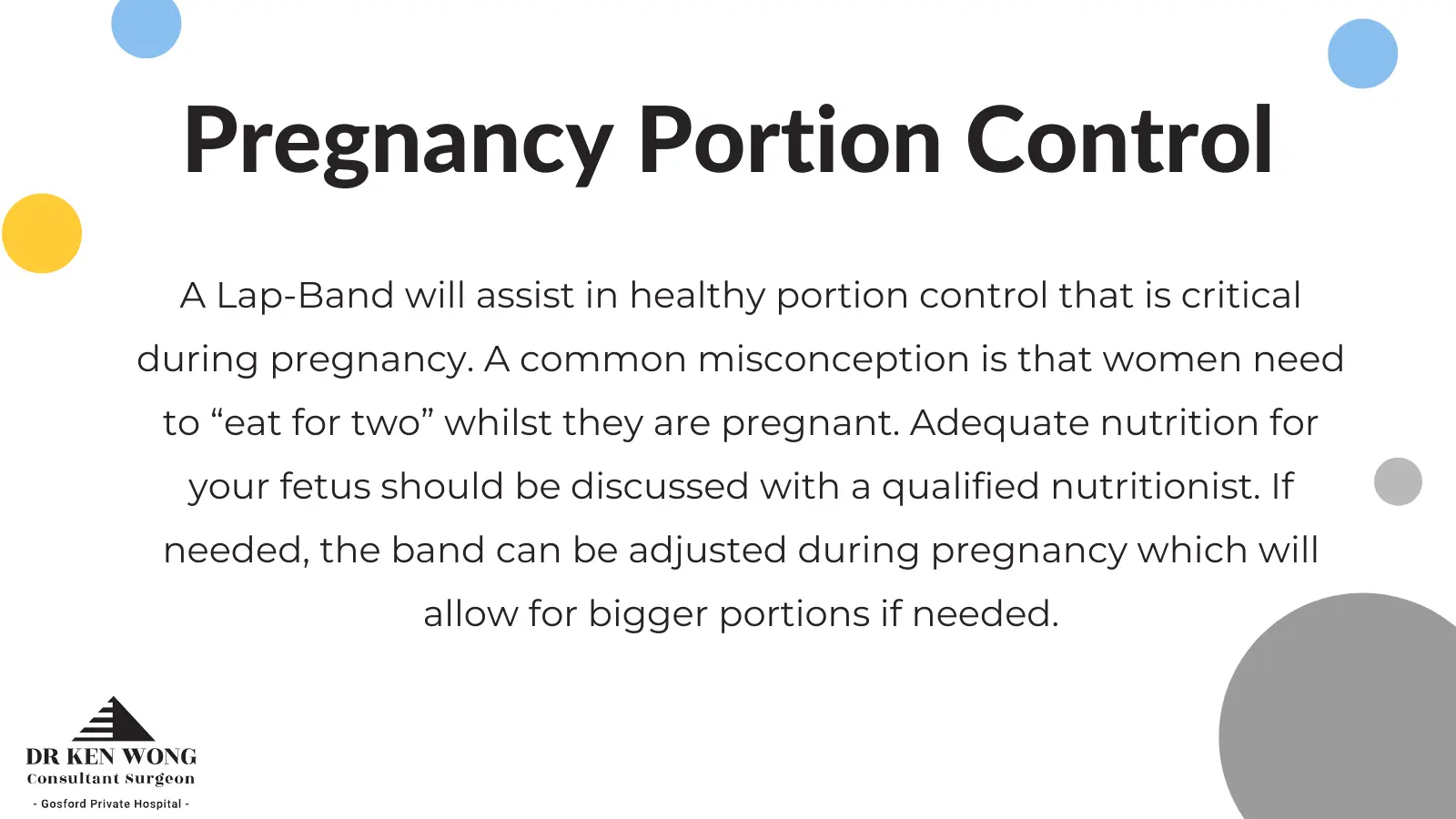 Concerns with Lap Band Surgery and Pregnancy
For patients concerned with the procedure and the potential to get pregnant, this process will accompany related medical anxieties. If you have gone through the lap band procedure to lose weight, watching yourself put weight back on during pregnancy will be challenging. Increased weight is a normal part of pregnancy and gaining an appropriate amount of weight is imperative to having a healthy pregnancy. Many women struggle to gain the right amount of weight during pregnancy following lap band surgery or another bariatric procedure which can lead to complications in the uterus. Thus, it is imperative that during your pregnancy, you balance consultations with a medical professional and nutritionist to ensure you're receiving the right amount of nutrients for your baby's development in the womb. In some cases, your doctor may recommend loosening the sleeve to allow more nutrients to make their way into the body.
Studies have shown that women who have had weight loss surgery are more likely to require a caesarean to deliver the baby. Whilst still a commonly used and safe delivery method, patients looking to avoid a c-section should consult with their doctor about the likelihood of requiring one and steps to take to reduce the odds. Appropriate exercise during pregnancy and taking proper childbirth preparation classes are two commonly used methods.
Lap Band Surgery After Pregnancy
Whilst the pertinent question is often, "Can you have a baby after lap band surgery?", in other instances, the order of actions is reversed. For some patients, it is possible to conceive and deliver a baby successfully before undergoing lap band surgery. Conducting a lap band surgery during pregnancy is not recommended, and it is again suggested you wait an appropriate amount of time after delivering the baby to have the surgery. If you are considering this option, consider too if the risks associated with pregnancy whilst being obese outweigh those of having the lap band surgery and postponing your pregnancy.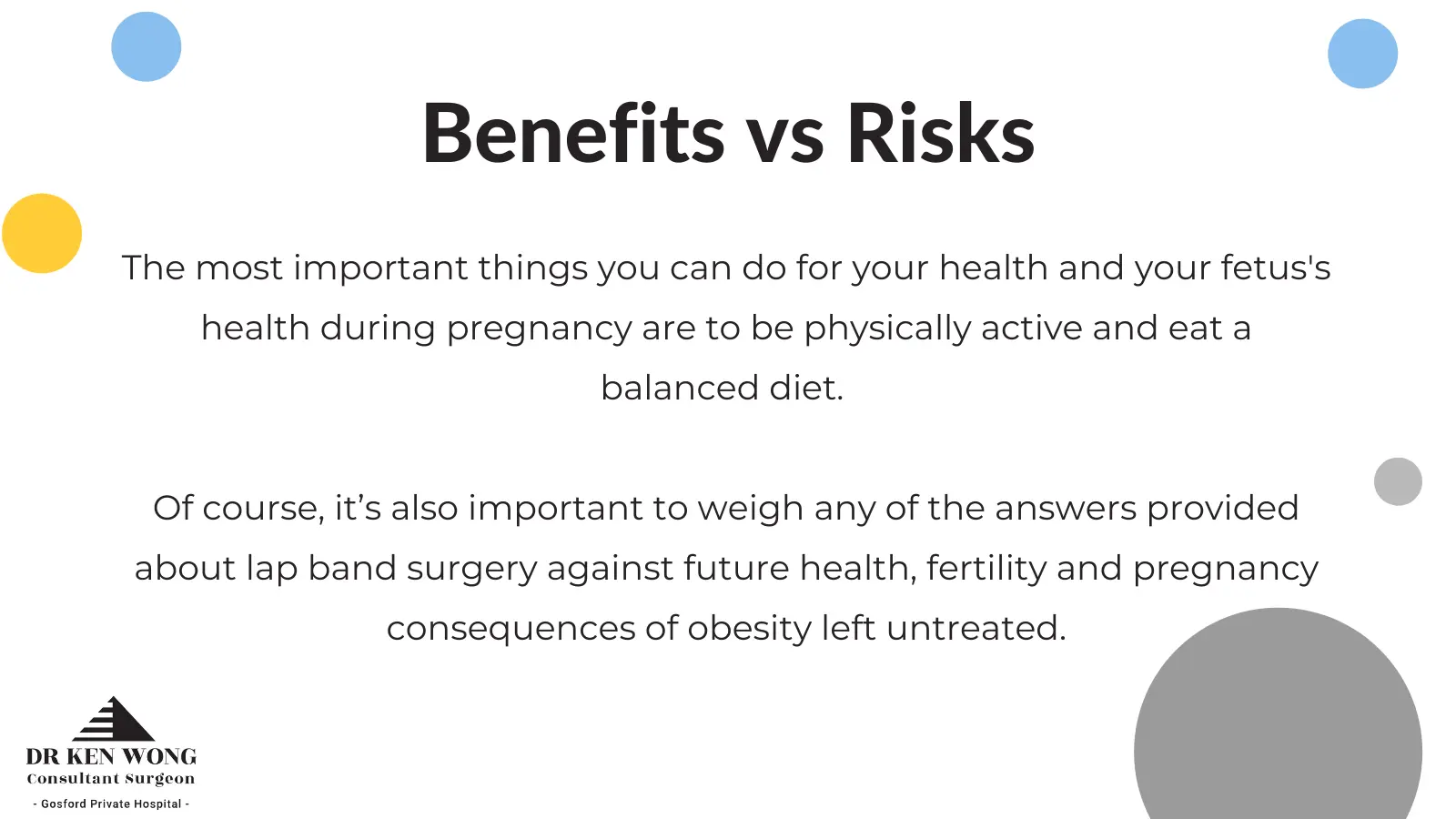 Wrapping Up
Many factors influence whether or not obese patients should have lap band surgery before or after pregnancy. The woman's age, the duration of their infertility, any previous pregnancies, and prior abdominal surgery are all important in understanding a patient's ideal operation scenario. There is no black and white answer to the order operating before or after a pregnancy. Studies, however, have shown vast improvements to pregnancy after lap band surgery for a significant number of women. Still, measured consultation with a healthcare professional is always the recommended first step.
Lap Band Surgery at Central Cost Surgery
Can you have a baby after lap band surgery? In most cases, yes you can. It is still recommended you consult with a medical professional to assess your health before trying to conceive after surgery. Dr Ken Wong has been conducting lap band surgeries to reduce the health issues associated with obesity for years. It is a highly safe procedure, and with correct measures taken, it will improve the pregnancy experience for women. Get in touch with the clinic online today to hear about the procedure in full and to begin your process of conceiving and happy and healthy baby.