Lap band surgery, or gastric band surgery, is one of the three most common weight loss options for patients with severe weight issues. Eligibility for lap band surgery differs from gastric sleeve surgery and gastric bypass surgery, just as the three offer differing benefits. Lap band surgery is a highly effective option for patients wanting to lose significant amounts of weight.
If you have ever asked, "am I eligible for lap band surgery?" well, the short answer is that the procedure isn't for everyone. In fact, many weight-loss surgeries are not an appropriate option for every patient. Lap bands and other bariatric surgeries are not designed for individuals who wish to lose a small amount of weight or choose an area of the body to draw excess weight from. In reality, surgeries such as this are designed as a tool for significant weight loss. Patients with a high body mass index (BMI), typically above 40, and/or other obesity-related co-morbid health conditions are the target candidates for weight loss surgery.
Prospective patients who wonder if they are candidates for lap band surgery can find a general guide to their standing below. However, proper consultation with Dr Ken Wong at Central Coast Surgery will establish an individual's lap band surgery eligibility. Those looking to take the next significant step in their weight loss journey should book in with an appointment with Dr Wong and his team within the clinic to determine if they will benefit from lap band surgery.
Before we jump into who might be a candidate, let's start with the basics:
What is Lap Band Surgery?
Lap band surgery is a procedure undertaken to help a patient lose a significant amount of weight. Lap band surgery involves placing a ring around the top part of the stomach, which slows the entry of food to the main chamber of the stomach.
Gastric band surgery is conducted under a general anaesthetic as a laparoscopic procedure. This is a minimally invasive procedure where the surgeon makes small incisions on the abdomen to place the band on the stomach. Laparoscopic surgery leaves very minimal scarring and, in most cases, leads to a rapid recovery time. The function of setting the bar on the stomach simulates the feeling of being full, despite the patient only eating a small amount of food.
Why Is Body Mass Index Important?
One of the first determining factors in a candidates' eligibility for lap band surgery Is their body mass index, or BMI, as it is commonly known. Measuring BMI is one way to determine eligibility or what type of weight loss surgery someone may most benefit from. BMI does not explicitly outline an individual's body fat percentage; it is more used as a helpful tool to categorise overall body weight according to a more standardised measurement. For example, someone with a BMI of 40 or above would be considered morbidly obese. On the other hand, someone with a BMI lower than 40 may still suffer from morbid obesity if that individual has at least one other co-morbid disease or health condition.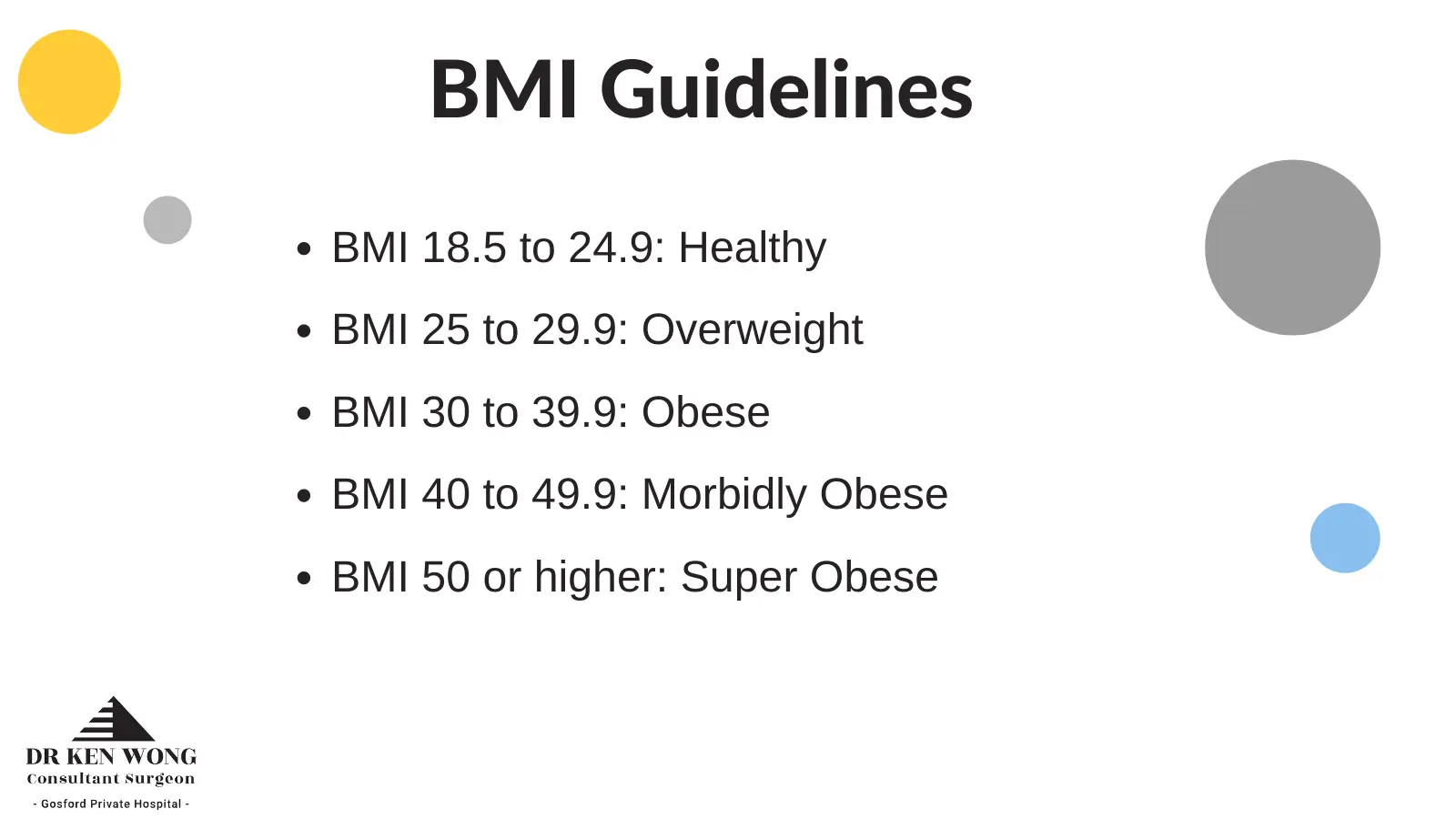 Who Is Eligible for Lap Band Surgery?
To be a candidate for lap band surgery, an individual must be at least 18 years old and have made a conscientious effort to lose weight with other methods like diet and exercise. If these efforts have been unsuccessful, the individual has only experienced weight loss in the short term. Further requirements include, but are not limited to patients who:
Do not have any other disease or health problems contributing to the excess weight gain.

Do not consume alcohol in excess.

Are not currently pregnant.

Are prepared to make substantial lifestyle changes, including significant adjustments to diet and exercise.
Other eligibility for lap band surgery includes having a BMI of at least 40; typically, the individual is overweight by more than 45 kilograms. Alternatively, the individual's BMI is at least 30 and suffers from one obesity-related, comorbidity condition.
Benefits of Lap Band Surgery
Unlike some other bariatric surgeries, lap band surgery is reversible and adjustable. It provides a solution to a problem that can be adapted as you move through your weight loss journey. These adjustments may become time-consuming as the process continues.
While the benefits of lap band surgery are superb and very effective, lap band surgery is not the quick remedy to losing weight and getting back into shape. Central Coast surgery will carefully assess each candidate to best judge if it is the right decision to make. A detailed history of other weight-loss attempts must be present, and reasons for their failure must be significant. To adequately realise the substantial benefits of lap band surgery, the patient must understand that these procedures come with a commitment to improving long-term eating and exercise behaviours.
Lap band surgery can be especially beneficial to those who have difficulty adhering to the consumption of small portions of food, compared to an individual who has a habit of excessive snacking being the chief cause of their weight gain. The best candidates for lap band surgery are those with a track record of losing weight relatively quickly but struggle to keep that weight off. The lap band's primary function is to halt any negative dietary cycles by restricting some of the stomach's functions.
Will Medicare Cover my Lap Band Surgery?
In Australia, Medicare will provide some reimbursement for weight loss procedures. However, as the Medicare Benefits Scheme has been amended slightly, your ability to receive a rebate for surgery may be affected. Weight loss surgery is not fully covered under Medicare, so in any case, you will still incur some out-of-pocket expenses.
Will Private Insurance Cover my Lap Band Surgery?
Some private insurance services will also provide coverage for lap band surgery. Even with this, you will undoubtedly have some out-of-pocket fees related to the surgery. Furthermore, as obesity is considered a pre-existing condition, there is a strong likelihood you will have to wait one year after joining a health fund to get approved to have lap band surgery. Many surgeons will not perform lap band or any other bariatric surgery if you do not have any private insurance set up. Consulting with Dr Wong can clarify the total cost involved and any costs associated with insurance.
Can Anything go Wrong?
Lap band surgery is a very safe procedure. Those eligible for lap band surgery can take comfort in that it has been conducted safely in Australia for decades. It has been well researched and developed with the patients' safety in mind. In some instances, infection or bleeding can occur at the wound. The ring can slip out of place or damage the stomach or surrounding organs on infrequent occasions. But these are problems with straightforward solutions that will not cause inconvenience for an extended amount of time. However, Dr Wong will guide you through any potential complications and side effects that may occur.
Central Coast Surgery's Lap band procedure and weight loss service support a holistic approach. There is a friendly and informed team of surgeons, bariatric physicians, dieticians, and psychologists who work as one to help patients achieve their weight loss goals. Performed by fully accredited chief surgeon Dr Ken Wong, our weight loss clinic has a proven track record and caters for a wide range of clients. If you are still wondering, "am I eligible for lap band surgery?" get in touch with our weight loss clinic to hear more about your options today.